[Date: 06/09/2018]


Finally, what we didn't want to be happened is happened now. It's a sad new here.

In Kyoto which is one of the most popular spots for photo shooting, the manners of photographers and couples' pranks are regarded as problems and it has been guessed that shooting at Gion (祇園), Arashiyama (嵐山), and other locations might be regulated by town association. And this time, we are reported by the association that they started to charge us photo shooting permission fee since 1st September 2018 against shooting at GION area. Permission fee differs depending on if the crew is member of the association.

Due to this regulation, it is extremely difficult for you to bring your own photographer from oversea. So if you are planning it, please pay attention carefully.

This regulation affects to whole Gion area such as Tatsumibashi (巽橋) and its around, and the violators need to pay penalty fee. Even engagement photographs and snap shots with your casual clothes are also subject to this regulation if the professional photographers serve shooting.

Some or our partner crew are already member of association, some are going to register soon and some will not be registered. So please ask us about the amount in advance after you select photographer.

Yes, this is a very sad news for everybody. But it's still better than complete prohibition. We cannot say there's no charge increasing or complete prohibition in close future, so it might be better to contact us as soon as possible if you are considering about photo shooting at Gion.

*We are so sorry to announce this affects to those who already made order and waiting for shooting.


Kyoto 京都

Basic information of Kyoto





[Date: 30/08/2018]


Summer is going to last soon and many websites have updated Autumn weather forecast lately. As the average temperature of this March was 2 degree lower than last year, most of them forecast maple leaves come early in this year.

For example for shooting at Kyoto, the one of the most popular regions, every year we had recommended our customers to select a day before the middle of December. But since 2017, four seasons has come earlier than usual. Sakura in Spring and maple leaves in Autumn come and end early. One of the crew told us not to expect maple leaves in December so much and asked us to recommend customer to select November.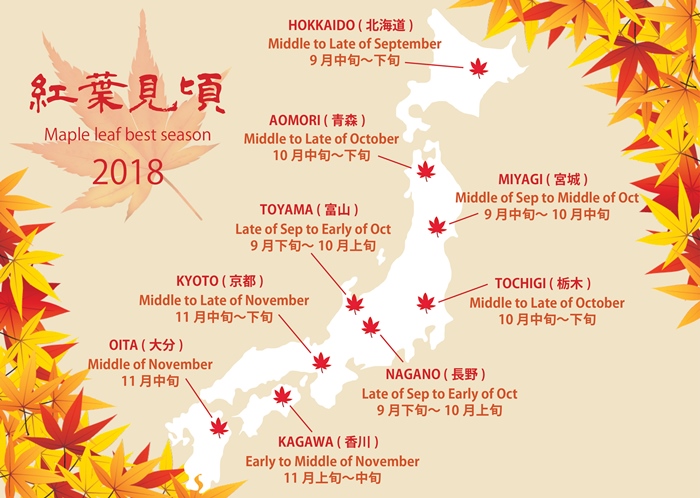 Today, we are showing latest forecast for Hokkaido (北海道), Aomori (青森), Miyagi (宮城), Toyama (富山), Tochigi (栃木), Nagano (長野), Kyoto (京都), Kagawa (香川) and Oita (大分). According to many Autumn forecasts on internet, best period will be ended in November or earlier no matter which region you select. Even you select December, we guess that there still be leaves but not much like November.

Because of these information, the photography crews are getting more and more orders now for photo shooting in November. Yes, we are still in freaking hot weather. But it's not too early to fix your pre wedding with maple leaf. Never be late to contact us if you are considering.







[Date: 30/08/2018]

Hong Kong


Fukuoka

Photography FEEL

Pre wedding

12th April 2018

We would like to express our gratitude to Nagata san of Ema Mino, Kentaro san, Chiho san and Aya san of Photography Feel team. Thanks for the intimate service and assistance during our prewedding photo taking.
We enjoyed the photo shooting and the quality of the photos is very good. We were surprised for the efficiency because the photos were all sent to us within only a week after the photo shooting day. Thank you for always offering us much time to choose the photos, decide the layout of the album, and even wait for us to meet you in office.
Once again, we have to say a big "thank you" to Nagata san and Kentaro san especially for the help in arranging the flowers for the surprise, which was not actually their scope of services. We will definitely recommend you to our friends in future. Thank you very much.
[Date: 28/07/2018]

Hong Kong


Nagano (Iiyama city 飯山市)

Karuizawa Photography Team

Pre wedding

19th April 2018

At first we searched traditional kimono pre-wedding photos on internet, and finally found Ema Mino. The price of the package has listed clearly on website, I think this is one of the point that we chose them.
Before our photo shooting, Nagata san was really helpful to give suggestions, and communicates with the shooting crew, so we can exactly get what we want! During our shooting, the crew was very nice, take care of our breakfast and prepared everything so we need to worry nothing.
The shooting went very smooth and we received our photos within a month, very efficient! Thanks to Nagata san, Daniel (photographer) and stylist, we had a great time in Nagano!
[Date: 28/07/2018]

Hong Kong


Nagano (Karuizawa city 軽井澤市)

Karuizawa Photography Team

Anniversary

23rd February 2018

We just back to Hong Kong! Thanks you so much for you and your crew for your arrangement! It is Fantastic! You and the crew are really Professional and perfect! We are very eager to see the photos. We enjoyed our travel so much, Ski and food are perfect!
[Date: 25/07/2018]

Hong Kong


Fukuoka (Nokonoshima 能古島)

SAKI WEDDING

Pre wedding

9th April 2018

Thanks for making our pre-wedding smooth running. We are deeply grateful for knowing you; you have saved us multiple times and thank you for keeping your warm hand reachable after our pre-wedding. The Japanese team is also amazing and dedicated! Thank you for capturing the precious moment of us.
It's our blessing to have you in our life.
[Date: 24/07/2018]


Yufuin comes into your choices.

We are always excited every time we start to work with a new photography crew. This time, we are about to introduce a new crew from Oita that we've not worked for. The first cooperation was Hong Kong wedding expo held on November 2017, we worked together with another crew from Fukuoka. Most couples gave us official orders in our event history and made our event so much successful. On the same time, we recognized that many people were interested in pre wedding at Oita, Yufuin and Beppu. It made us move forward to work together regularly.

SAKAE Photo Studio is one of the most famous photography crew in Japan, constantly holds training events for many photographers all over Japan. Their outfit choices are also so plentiful, and you will find suitable shooting locations from their suggestions for sure.

For the beginning, we decided to offer 3 different packages. "Wedding gown & tuxedo package", "KIMONO package" and "Wedding gown & tuxedo + KIMONO package". But! We will provide Wedding gown & tuxedo too for those who order "KIMONO package" as privilege for our first year. So you will get 2 pairs of outfits with the amount of KIMONO package. It must be attractive for you.

Shall we consider about shooting in Oita that you easily access from Fukuoka and Kumamoto. We have real confidence to offer very unique style photo shooting that you have never seen. The crew will pick you up your accommodation and send you after fitting/shooting as long as you stay in Oita city, Beppu city, and Yufuin, so there's nothing to worry even if it's your first time to visit to Oita.


Contact us first if you start to feel excising now.

Asking Form