[Date: 19/04/2018]

Hong Kong


Oita

SAKAE PHOTO STUDIO

Pre wedding

12th April 2018

We have finished the shooting yesterday and we were so glad and lucky to meet this sweet crew. All staff are very profession and kind, we enjoy every part which arranged by themselves. We are so toughing about the enthusiastic by photographer and the helpers.
They are not only aim to finish their work, but also enjoy the shooting with us. The translator Miss MoMo is really helpful and friendly, she helps us to finish the shooting smoothly . And we were also appreciate the boss who have grate prepare for us. We are highly recommend to other customers and friends to join the plan with this studio. Last but not least, we are so thank you for your help in these day. This is a unforgettable memory for us.
どうもありがとう.
[Date: 16/04/2018]

U.K (United Kingdom)


Kyoto

atelier Casha

Pre wedding

2nd April 2018

Thank you so much to Ema Mino and Atelier Casha for the amazing experience. It was a pleasure working with you and your photography crew. Thank you for changing the shooting date for us, and allowing us to have the original photographs; as well as the touch up photos. I apologize that me and my partner were demanding, but thank you for taking our request into consideration and make it happen. Me and my partner are very thrilled with your decision.
As for the photoshoot, the photography crew was fantastic. They tried to fit in as many places as possible within our shooting schedule, so we could have as much sceneries as possible. They also asked for our opinions and ideas on the photoshoot, and were patient with us. Despite having a bit of a language barrier, we were able to communicate well with each other and understand each other. Thank you to our photographer, our stylist, driver, other staff members and Ema Mino for giving us a memorable time. I will recommend you to my friends and relatives in future.
[Date: 22/02/2018]


Today we got contact and question from couple who gave us order for shooting at Oita in coming April.

This couple was going to wear both Japanese KIMONO, western outfits and also their own casual wear for shooting. But they are changing their mind now and want to wear school uniform instead of casual wear. Many couples bring over unique items for shooting such as chalkboard, dolls and so on. Of course you can prepare special attires too that you want to wear for your pre wedding.

We had served a family (parents and son) in Okinawa before. All they wore school Japanese uniform and we took photos at a high school. On the other hand, there was a couple wore cartoon costumes in Kyoto.

Some of photography crews have school as location choice. And also, there are somewhere else good for shooting with school uniform. Please ask us if you are interested.

We are photographer and wedding producer, and yet great memory provider.
"Make your ideals reality"
This is what we do on our duty.

We hope that this couple enjoy their photo shooting while remembering school days by wearing uniforms.







[Date: 13/02/2018]

Hong Kong


Oita

SAKAE PHOTO STUDIO

Pre wedding

23rd November 2017

Original comment in Chinese
We had heard about Hokkaido, Okinawa, Cherry blossom and Maple leaves for pre wedding photo shooting in Japan. But my boyfriend Raymond and I chose Yufuin of Oita prefecture in Kyushu, and went there for our pre wedding.
2 months ago, we started to prepare for our marriage and had joined to wedding expo to clarify our idea and what we want. Then we were interested in oversea wedding, but consider about both Korea and Japan for our choices. These two choices are totally different actually. Korea: Mainly indoor shooting, make up and wedding dresses are so good, and beautiful photo retouching. Japan: Mainly outdoor shooting, focus nature, and they don't edit photo much.
Both we love to travel to Japan and have interest in Japanese pre wedding more. But we will be satisfied with Korean style make up too. When we were still considering, we found a booth of Fukuoka and Oita and immediately ask about package details. Finally we decide to plan to head to Fukuoka in our Christmas holidays. This company is the agent established by Japanese in Hong Kong. They had been working with Japanese photographer in wedding expo, and female CEO came to join and she was supporting on the booth. In bride's (my) mind, I'm ready to go to Fukuoka. So we went there back in next day to confirm. CEO of studio was a very nice lady, gave us some privileges too.
The package we selected is $13,xxx included 1 dress 1 tuxedo and pair of KIMONO (Uchikake), 200 photos, basic adjustment of color contrast and brightness. Photo album is the option.
Afterward, we went to agent's office and told them about our idea in English. Boss was always very patient and kind, even gave us helpful information for our travel. We had been kept contact on whatsapp until we left. They sent us outfits photos too and let us select in advance.
A day before our shooting, we went to the Oita's salon to confirm outfits and whole schedule, also talked to photographer to share our idea (mostly Raymond's idea). We brought some reference. It makes much easier to make photographer understand what we want. The season is autumn. Leaves ware red but there was no snow yet. As Raymond wanted Japanese tasteful landscape, photographer served shooting at bamboo forest, Torii, Temple and Lake Kinrin. Behind the studio, there was small chapel that we can take photo at.
We received all photos less than a month after shooting.
There is no doubt that service and attitude of Japanese company is absolutely 100 out of 100. The female CEO took much care of us. She worries about our dinner as we arrive at hotel late, brought us shopping mall to get thick pants as Raymond worn thin one, arranged Cantonese speaking interpreter as we are from Hong Kong. There were more care for us.
[Date: 12/02/2018]





[Date: 03/02/2018]


It's been a month since 2018 starts and still very cold in Hong Kong and Japan. How are you doing lately?

Every February and March, we had unfortunately needed to reject customer's order due to full reservation. As you know, since pre wedding / post wedding photo shooting in cherry blossom season is the most popular with not only foreign couples but also Japanese couples, many photography crews get fully reserved. Some of them are already reserved 90% of whole availability by the end of 2017, and it's quite difficult for them to accept new orders.

We also feel sorry to reject your order of photo shooting due to late decision and no choice. We already got a lot of contract for this period but still can offer packages. We are showing current booking situation here. Kindly refer it, consider well and decide as soon as you can.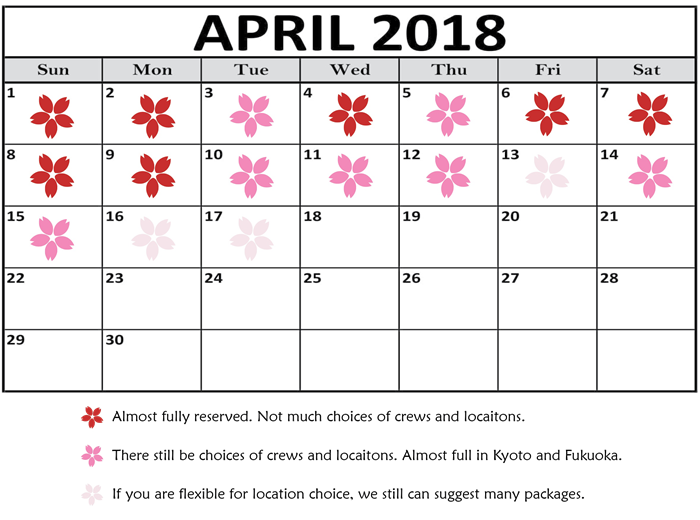 Ema Mino has been working with many Japanese photography crews and offer various package for you. There is no choice if they are completely sold out, but it is possible for us to suggest suitable crews and locations. Please share us your idea and let us offer the most suitable package for you.

We normally do never push you for early decision. However it's different situation now. If you are seriously thinking of order for this season, we highly recommend you to make your decision now.

Sakura will never wait for you.







[Date: 01/02/2018]

Hong Kong


Shiga

Shiga Bridal Photo Works

Pre wedding

13th October 2017

Dear Nagata san,
Thanks for your arrangement. It was a lovely journey and we hope everyone enjoyed the moment as much as we were. We finished our wedding banquet finally. Many of our guests were very interested in the lovely album.
The entire crew is amazing and cheering, which result in a very high quality album.
1. Coordination – Team is very patient; providing sufficient material and supports for our read and choice before the trip
2. Reception – Team is polite and we are warmly welcomed
3. Translate – Very sweet and helpful
4. Makeup – Professional (Thumbs up) and attention to details. Gentle and precise.
5. Hairdo – Professional (Thumbs up). Nice choice of hair accessory and application.
6. Kimono and Wedding Gown – High quality and in very good status. Could have more option for gown.
7. Photography Team – Brilliantly profession, with passion.
8. Album – Excellent. Nice sequence, presentation and arrangement. Good quality printing and binding.
Thanks very much for a top experience.