Fukuoka 福岡

Photography crews list (Fukuoka)
Basic information of Fukuoka
About Fukuoka
The biggest prefecture in Kyushu "Fukuoka", has 28 cities, 30 towns and 2 villages. Because of historical reason, Fukuoka prefecture is divided in 4 area "Kitakyushu(北九州)", "Fukuoka(福岡)", "Chikugo(筑後)" and "Chikuho(筑豊)". These years, many tourists have come to Fukuoka. Ferry travel to Fukuoka from Pusan port in Korea and more and more flights touch down to Fukuoka from many cities of Asia, so numbers of visitors to Fukuoka is getting much more recently. Most of tourists enjoy local foods such as fresh sashimi, sushi, pork cutlet, ramen and motsu hotpot.
Weather of Fukuoka
The average temperature: 17.0°C
The average annual rainfall: 1,612.3mm
The highest temperature: 32.1°C (August)
The Lowest temperature: 3.5°C (January)
*Investigation: 1981 - 2010

Rainy season of Fukuoka
Rainy season in Fukuoka starts on 2nd - 5th June and end on 20th - 25th July.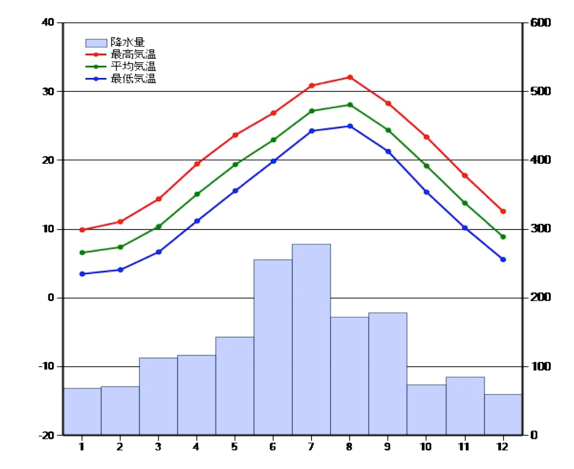 Population of Fukuoka
The population of Fukuoka prefecture that has two government ordinance designated cities "Fukuoka city" and "Kitakyushu city" is around 5,088,000 as of June 2013.
Geography of Fukuoka
The area of Fukuoka prefecture is around 4,971 km2
Area rank: 29th of All 47 prefectures in Japan
Popular local food of Fukuoka
There are many old people who think Udon is the most famous local foods in Fukuoka, but nowadays lots of tourists have been coming to Fukuoka to have ramen, sushi and fresh seafood. Fukuoka prefecture faces the sea much fresh seafood landed from such as Genkai-nada sea and Tsushima area. There are many good restaurants provides fantastic dishes cooked with local seafood.
If you have enough time, we suggest you to try Mizutaki hotpot (水炊き鍋). It's also one of very famous yet popular food in Fukuoka.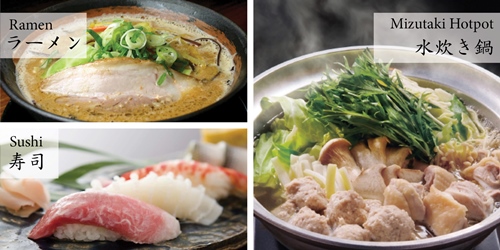 Transportation of Fukuoka
●West Japan Railway Company (= JR Nishi Nihon)
>Sanyo Shinkansen >Hakata Minami Line
●JR Kyushu
>Kyushu Shinkansen, >Kogoshima Main Line >Nippou Main Line >Kyudai Main Line >Sasaguri Line >Hitahikosan Line >Kashii Line >Gotoji Line >Chikushi Line
●Fukuoka sabway
>Airport Line >Hakozaki Line >Nanakuma Line
●Kitakyushu Monorail
●Nishi Nippon Railroad
>Tenjin-Ohmuta Line >Dazaifu Line >Kaizuka Line >Nishitesu-Amagi Line
●Amagi Railway
●Heisei Chikuho Railway
Recommendation of sightseeing spots in Fukuoka
Nokonoshima Island (能古島), River boat Yanagawa city (柳川川下り), Dazaifu shrine (大宰府天満宮), Kawachi Fuji Garden (河内藤園)
Number of travelers from Hong Kong who stayed at Fukuoka
(2014) 124,060 people
(2015) 253,880 people (+ 104%)
Major events and festivals of Fukuoka
●Hakata Dontaku Festival (at Tenjin Fukuoka on 3rd-4th May)
●Hakata Gion Yamakasa (at Kushida shrine on July)
●Wasshoi Million summer festival (at Kitakyushu on August)
●Ohori fireworks festival (at Fukuoka city on 1st August)
●Chikugogawa fireworks festival (at Kurume city on 5th August)
●Kanmon fireworks festival (Kitakyushu city on 13th August)
●Reggae festival "Sunset" (at Itoshima city on September)
and much more.
Celebrities from Fukuoka
Ken Takakura, Ayumi Hamasaki, Tamori, Satoshi Tsumabuki, Hitomi Kuroki, Ringo Shiina, YUI, Hiromi Go, Seiko Matsuda, Izumi Sakai (ZARD), Checkers, Tatsunori Hara, Youichi Masuzoe, Kiyoshi Hikawa, Takafumi Horie, Noriko Sakai, IKKO and so on.
Professional sport teams of Fukuoka
●Football
>Avispa Fukuoka(Fukuoka city) >Giravanz Kitakyushu (Kitakyushu city)
●Baseball
>Fukuoka Softbank Hawks
●Basketball
>Rizing Fukuoka (Fukuoka city)
●Rugby
>Coca-Cola Red Sperks (Fukuoka city) >Fukuoka Sanix Blues (Munakata city) >Kyuden Voltex