What a cute temple! Pre wedding at 正寿院 (Limited offer)


There is no other place like this. "正寿院 (Shojuin)" attracts many people's attention as the place that looks great on Instagram. Heart shape is actually one of the symbols called "猪目 INOME (warthog's eye)", had been marked on roof and pillar of shrine and temple for long time. It's named because it looked like warthog's eye and believed as talisman. We haven't seen such cute yet meaningful windows.

And now we start to sell a package that we take photo at this fantastic temple. Photos are taken not only indoor but also outdoor in the facility. So you will be able to enjoy shooting while you take a walk. This package is served for 1 couple in a day and the couple needs to arrive at salon by 7:30 am.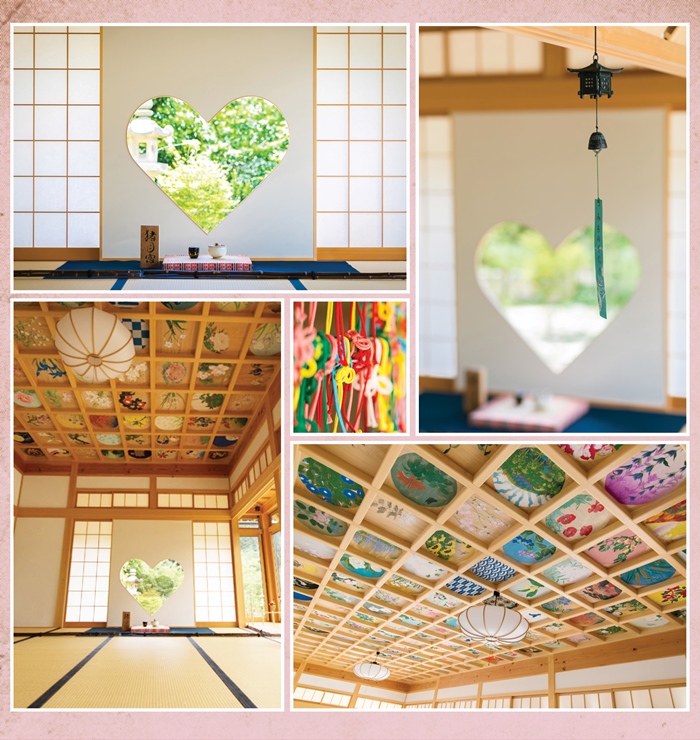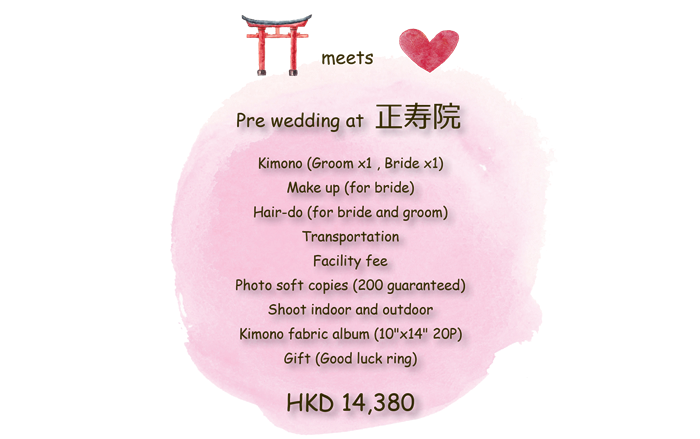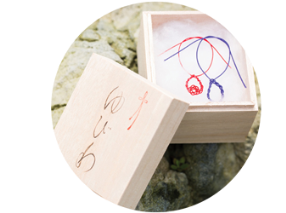 It's a quite unique photo shooting package and we want many couples to choose and enjoy this package. But it's a limited offered and we already got lots of orders so far and there are many days that we can serve it. So if you have interest, contact us as soon as possible.

Those who choose shooting package, will get cute ring made by MIZUHIKI (good luck string) and our optional kimono fabric album! We are looking forward to hearing from you.

(*Other privileges are not enjoyable with this package)


Basic information of Kyoto
About Kyoto
Kyoto city is the former Imperial capital of Japan for more than one thousand years, has lots of historical temples. Kyoto is next to Osaka and Hyogo prefecture. These three cities are called "三都 three capitals", and very popular for foreign tourists. Compared to Osaka and Kobe cities Kyoto is not very modern city, but no city in Japan offers traditional scene and atmosphere like Kyoto. Luckily Kyoto is removed from the list of target cities for the atomic bomb in world war II, so lots of historical temples, shrines and other structures still survive today in the city.
Weather of Kyoto
The average temperature: 15.9 °C
The average annual rainfall: 1,491.3 mm
The highest temperature: 33.3°C (August)
The Lowest temperature: 1.2°C (January)
*Investigation: 1981 - 2010

Rainy season of Kyoto
Rainy season in Kyoto prefecture starts on 6th - 10th June and end on 18th - 23rd July. After rainy season, temperature get higher and humidity is also still very high due to basin terrain. This hot weather make leaves on three colour fresh green and it makes us feel a bit cooler. Normally it rains more in September than August, it seldom rain hard in maple leaf season (October and November).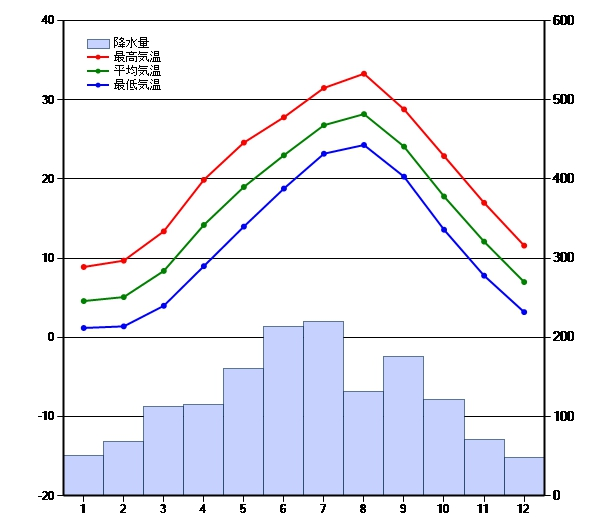 Population of Kyoto
The population of Kyoto prefecture is around 2,607,000 as of June 2016 (13th highest population density). 1,500,000 people in all population lives in Kyoto city.
Geography of Kyoto
To the south, it faces Osaka and Nara Prefectures and it faces Hyōgo Prefecture to the west. Kyoto is known that one of the three main cites (三都) in Kansai area with Kobe and Osaka.
Total area of Kyoto prefecture is around 4,613 km2
Area rank: 13th / all 47 prefectures in Japan.
Popular local food of Kyoto
Kyoto's traditional dishes are called "Kyo-Ryori 京料理", looks like set menu that has many kinds of dishes served by many small bowls. Mostly all dishes are cooked with local organic ingredients. Especially tofu hotpot, Japanese pickles and grilled fish are their regular menu and all those are decorated by chef such as work of art. Not only tasting but also seeing dishes is one of our pleasure.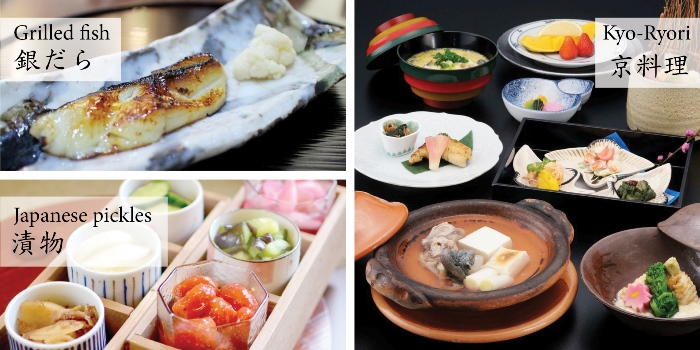 Transportation of Kyoto
●JR West ●Kintetsu Kyoto line ●Hankyu Kyoto line ●Keihan Electric Railway
●Kyoto city subway ●Kyoto kotsu ●Keifuku Electric Railway ●Eizan railway

IF you move around in Kyoto city, we highly recommend you to buy one day bus card (Adult: 500 Yen , Child: 250 Yen). In front of JR Kyoto station, there is bus information centre and they sell 1day pass ticket for one day and you can get bus map that shown all bus numbers, destinations, locations of bus stop and so on. It's fixed fare (Adult: 500 Yen , Child: 250 Yen), and you can take buses as many times as you need. On the first ride of a day, when you put your card into machine it mark the date on the back of your card and from 2nd time you ride, you just need show the driver the date printed. It's very convenient.

(Kansai international airport to Kyoto)
>Airport Limousine bus (Adult: 2,550 Yen, Child: 1,280 yen | Round trip: 4,180 Yen)
*Time schedule: http://www.okkbus.co.jp/en/timetable/kix/t_kyt.html

(Osaka station to Kyoto station)
>JR Kyoto Line (Shin-kaisoku / 29 mins / 560 Yen)

(Sannomiya station (Kobe) to Kyoto station)
>JR Kobe Line (Shin-kaisoku / 51 mins / 1,080 Yen)

Recommendation of sightseeing spots in Kyoto
Arashiyama (嵐山), Kiyomizu temple (清水寺), Amano hasidate (天橋立),
Fushimi Inari Shirine (伏見稲荷大社)
Number of travelers from Hong Kong who stayed at Kyoto
(2014) 111,400 people
(2015) 193,230 people (+ 73%)
Major events and festivals of Kyoto
●Gion festival (at Yasaka shrine in July)
●Aoi festival (at Kamigamo shrine and Shimogamo Shrine at middle of May)
●Jidai festival (at Kyoto gosho, Heian shrine on 22nd October)
and much more.
Celebrities from Kyoto
Kumi Kouda, Emi Suzuki, Masakazu Tamura, Tetsuji Tamayama, Kimiko Date, Shinsuke Shimada, Daisuke Matsui, Katsuya Nomura, Aya Sugimoto, Kazumi Saito, Misono, Chihara brothers, Daisuke Miyagawa
Professional sport teams of Kyoto
●Football
>Kyoto Sanga FC >Amitie Sports Club
●Basketball
>Kyoto Hannaryz