News
[Date: 12/07/2014]
We "Ema Mino" and "Be-Brides" has started to work in collaboration.

"2 locations shooting package" includes many great services with the fixed price HKD 13,700-

Chinese interpreter / 10×12 inches 32 pages album / 150 shoots data form /

2 Kimonos for bride and 1 Kimono for groom / Hair make-up for bride / Courtesy car / Accessories

★Package Benefits★:

1. Heart-shaped "ema" (traditional votive picture tablet used) for everlasting love

2. Complimentary use of Yukata or simple kimono to change after the photo shoot

3. Complimentary Chinese tourist map of Kyoto

4. "Kimono Passport" – booklet filled with special benefits for those of you who enjoy taking a stroll in a

kimono or Yukata



Through the interpreter, you will be able to communicate with their Japanese make-up artist and

photographer and be assured that your requests are accurately conveyed.


[Date: 02/07/2014]
Studio ARC Kyoto branch has started to serve special package just for foreigners.

They are selected by over ten thousands couples each year!!

You can enjoy your choices of trendy yet unique line-up outfits.

If you are looking for natural look, we promise you will be happy with all photos that they take for you.

Experienced photographers never miss your natural smile.


The package price is up to HKD 11,800.
Of course 100 photo data form and 32 pages album are guaranteed in this package as well.

And if you would like to have shooting with traditional house or rickshaw, they can arrange those options for you.

Feel historical atmosphere in shooting with traditional landscape that only Kyoto can afford.
[Date: 17/06/2014]
We are introduced by "Be Okinawa" website.

English: http://en.okinawastory.jp/facility/ema-mino

Chinese: http://tc.visitokinawa.jp/facility/ema-mino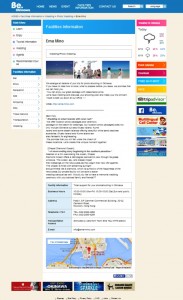 The rainy season is breaking in Okinawa on 23rd June according to the weather forecast.

You can choose one of our great packages which serve you photo shooting at white sand beach, Uninhabited island and beautiful church.

Our most reasonable package for shooting is HKD 10,350 by "Bell For".
Shall we make a shooting plan with us to visit there for your pre-wedding ?
[Date: 12/06/2014]
We are very proud to announce that we just started to introduce "Kyoto-Kojitsu 京都好日".

They are the Gold Medal Winner of "Wedding Photo Award" for four consecutive years.


These pictures got the Gold medal title.

If you book through us you will be able enjoy all your choices of their outfits without any additional option fee.

They work in collaboration with the popular hair salon in Kyoto, "Vivimas Vivamas", and the stylist will accompany with you for the photo shoot.

You will be able to have over 500 photos in data form!!

[Date: 12/06/2014]

You will be able to enjoy our good quality album no matter which studio you select for your shooting.

We serve big "Glass Plate covered album in our packages.

Size is 10X15 inches with 26 pages.


"Glass plate covered album".

The fee of reprinting for same album is HKD 1,280.

Or in case one album is not enough, we will suggest an additional order with different data for you.

We can arrange different size album as well.

Please come to our office to take a look once.

We are sure that you are going to be interested in our products.

Make your album filled with your smile!!!