[Date: 05/12/2018]


It is forecasted that this winter will be warmer than usual since the early of autumn. The first snowing day in a year of Wakkanai Hokkaido (北海道稚内) was the latest ever in the observation history. It was "Summer day (maximum temperature is more than 25 degree)" at many regions on 3rd December, like people never feel winter and still can go out with half sleeve shirts.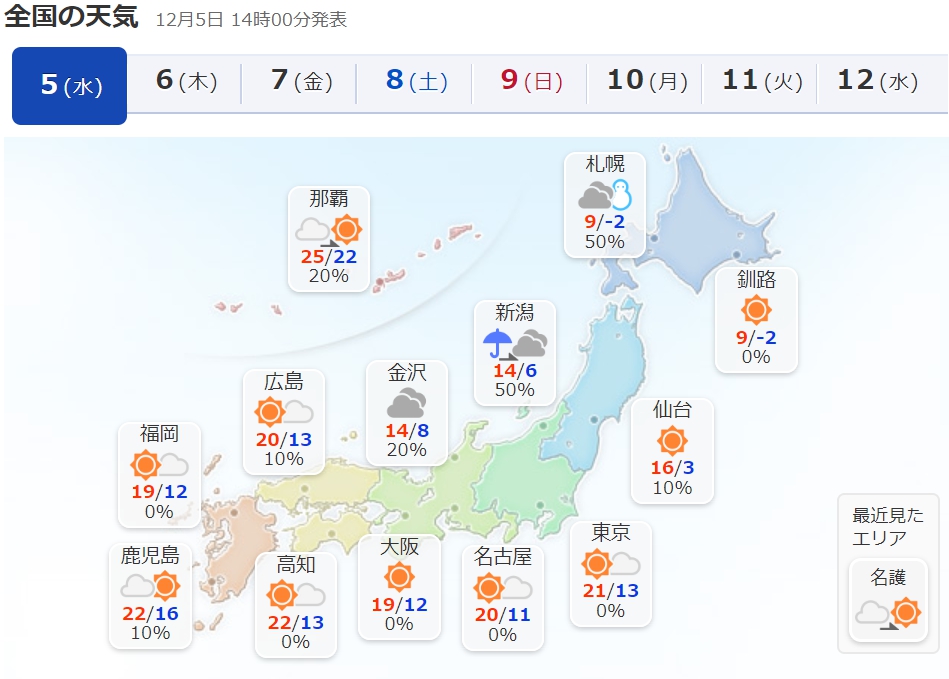 However, it seems to become so much cold and the winter finally comes this weekend. As you see the temperature difference between today and weekend will be 13 degree (Sendai, Miyagi prefecture), and snowing is expected at some regions. It must be good news for those who will enjoy snow scenery, skiing, snowboarding or any other winter activities.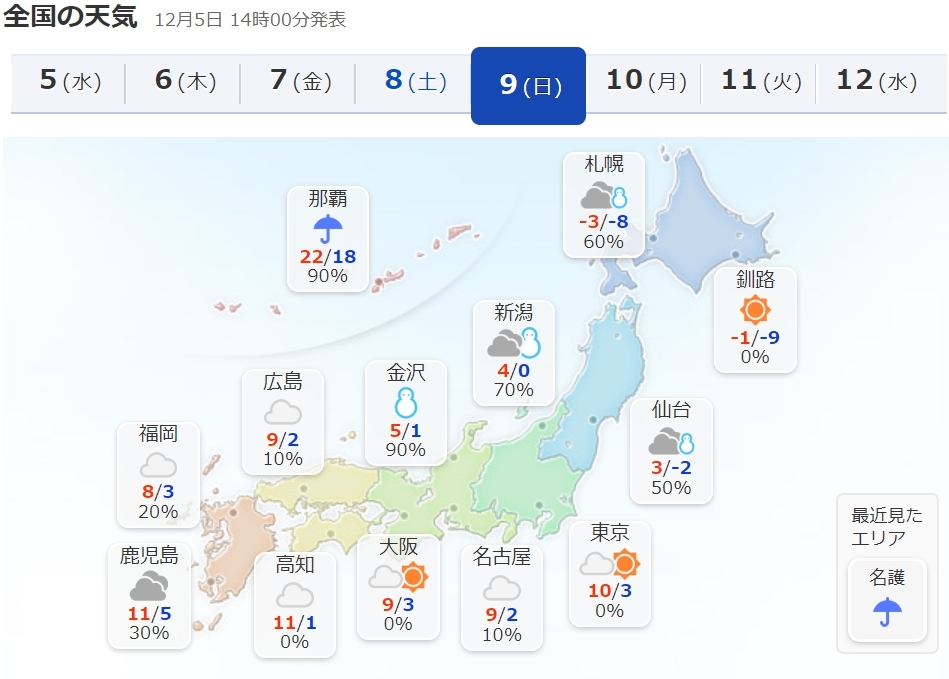 We are contacting to customers too who are waiting for their photo shooting and asking to prepare a thick jacket on the day of their shoot. For not only these customers but also all travellers to Japan, please pay attention to weather forecast and take good care of yourself every time you go out.








[Date: 26/11/2018]


One month left to go a new year 2019. The city is getting in the mood of X'mas. Today, we announce about X'mas & New Year gifts that we offer every year. Those who plan to go to Japan in sakura (cherry blossom) season in 2019 must check it.

All customer who take photos at Japan on any day in the period 20 March ~ 10 April in 2019, yet give us the official order in the period 1 December 2018 ~ 31 January 2019 can pick one privilege from the following choices.

As the qualities of our photo album and oil painting are so great, we are sure that you will be satisfied with this privilege. The sakura season is the busiest season in a year, we get a lot of orders every year. And we are sorry for rejecting orders from the customers sometimes as many crews get fully booked and they are not available. Hope you start to consider and order us soon and enjoy our X'mas & New Year gifts.

Kindly send us the contact form for your any requirements or questions. We are looking forward to your contact and order.

Merry Christmas & Happy New Year in advance.
Have a great one.

Contact us now






[Date: 09/11/2018]

Hong Kong


Kyoto

Kyoto Kojitsu

Pre wedding

3rd August 2018

Original comment in Chinese
We were planning to have pre wedding photo shooting in Japan, and found Ema Mino on internet one month advance before we left. Their website show many sample photos taken in Japan. After the meeting with them we clearly understood the details of the service and price. Thank you very much for support and arrangement for our pre wedding in Japan, also appreciate to continuous contact on email and whatsapp to let us know the day of our fitting and shooting.
We would like to thank to Kyoto kojitsu photography crew too for their service. The photographer Mr. Hiroaki Kakiuchi, assistant and make up artist had worked hard to take our photo nicely even in 39 degree temperature. The photographer even came into the river to take photos with good angles. Whole shooting procedure was quite smooth.
Shirakawa, Botanical Garden
[Date: 03/11/2018]

Hong Kong


Shiga

Shiga Bridal Photo Works

Pre wedding

9th July 2018

We found Ema Mino online and on a whim we sent in the enquiry form asking for more information. Teppei San replied shortly and invited us to visit their office for a detailed discussion. We came out from the meeting with a consensual "this is it!".
Prior to finding out about Ema Mino and meeting Teppei San, we deliberated for a long time on which photographer to go for and where should the shooting take place for our pre-wedding. We had looked at numerous local photographers and destination packages but none of that felt more right than when we looked at what Teppei San had to offer. Japan has been our favorite place to go to and is a special place for both of us. We picked Shiga (out of the many options) for the simple fact that we have never been there and the shooting locations looked amazing – it did NOT disappoint!
The whole process was absolutely seamless and the shop offered the most stunning Kimonos and Hakamas. The several locations we went to were all so quaint and quiet that we were able to have a great time enjoying the experience (rather than having to pose among crowds of people). The crew was also tremendously helpful and delightful, going out of their way to make us feel comfortable, well fed and well pampered on the long day of shooting. It was truly one of the most memorable days for us and honestly, out of all the decisions we've made for our wedding thus far, this was the best one yet 🙂 the photos also came very much on time, and Teppei San is always helpful and super responsive. We have just gotten the final printed album and canvas – quality of both are just top notch.
We'll be sure to continue recommending Ema Mino to all our friends who'd like to make pre-wedding memories in Japan. We could not be more grateful ourselves 🙂
Lake Biwa Chapel, Keiunkan Japanese Garden, Hikone town
[Date: 06/09/2018]


Finally, what we didn't want to be happened is happened now. It's a sad new here.

In Kyoto which is one of the most popular spots for photo shooting, the manners of photographers and couples' pranks are regarded as problems and it has been guessed that shooting at Gion (祇園), Arashiyama (嵐山), and other locations might be regulated by town association. And this time, we are reported by the association that they started to charge us photo shooting permission fee since 1st September 2018 against shooting at GION area. Permission fee differs depending on if the crew is member of the association.

Due to this regulation, it is extremely difficult for you to bring your own photographer from oversea. So if you are planning it, please pay attention carefully.

This regulation affects to whole Gion area such as Tatsumibashi (巽橋) and its around, and the violators need to pay penalty fee. Even engagement photographs and snap shots with your casual clothes are also subject to this regulation if the professional photographers serve shooting.

Some or our partner crew are already member of association, some are going to register soon and some will not be registered. So please ask us about the amount in advance after you select photographer.

Yes, this is a very sad news for everybody. But it's still better than complete prohibition. We cannot say there's no charge increasing or complete prohibition in close future, so it might be better to contact us as soon as possible if you are considering about photo shooting at Gion.

*We are so sorry to announce this affects to those who already made order and waiting for shooting. GION.


Kyoto 京都

Basic information of Kyoto






[Date: 30/08/2018]


Summer is going to last soon and many websites have updated Autumn weather forecast lately. As the average temperature of this March was 2 degree lower than last year, most of them forecast maple leaves come early in this year.

For example for shooting at Kyoto, the one of the most popular regions, every year we had recommended our customers to select a day before the middle of December. But since 2017, four seasons has come earlier than usual. Sakura in Spring and maple leaves in Autumn come and end early. One of the crew told us not to expect maple leaves in December so much and asked us to recommend customer to select November.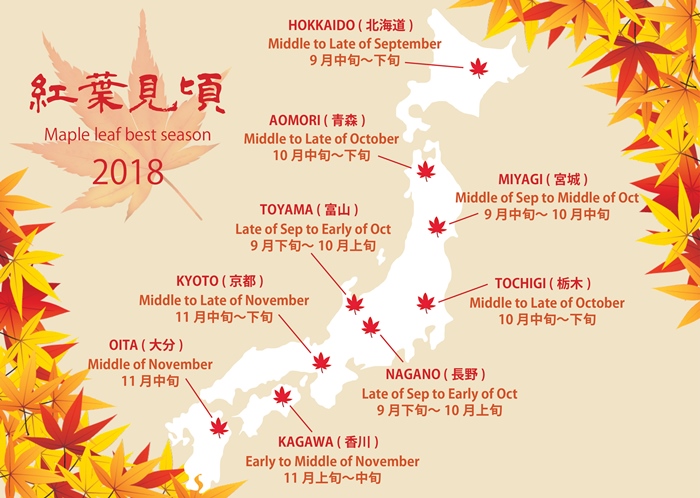 Today, we are showing latest forecast for Hokkaido (北海道), Aomori (青森), Miyagi (宮城), Toyama (富山), Tochigi (栃木), Nagano (長野), Kyoto (京都), Kagawa (香川) and Oita (大分). According to many Autumn forecasts on internet, best period will be ended in November or earlier no matter which region you select. Even you select December, we guess that there still be leaves but not much like November.

Because of these information, the photography crews are getting more and more orders now for photo shooting in November. Yes, we are still in freaking hot weather. But it's not too early to fix your pre wedding with maple leaf. Never be late to contact us if you are considering.








[Date: 30/08/2018]

Hong Kong


Fukuoka

Photography FEEL

Pre wedding

12th April 2018

We would like to express our gratitude to Nagata san of Ema Mino, Kentaro san, Chiho san and Aya san of Photography Feel team. Thanks for the intimate service and assistance during our prewedding photo taking.
We enjoyed the photo shooting and the quality of the photos is very good. We were surprised for the efficiency because the photos were all sent to us within only a week after the photo shooting day. Thank you for always offering us much time to choose the photos, decide the layout of the album, and even wait for us to meet you in office.
Once again, we have to say a big "thank you" to Nagata san and Kentaro san especially for the help in arranging the flowers for the surprise, which was not actually their scope of services. We will definitely recommend you to our friends in future. Thank you very much.
Umino Nakamichi Park, Yusentei Japanese Garden