Awamori dining Bar "URANIWA うら庭"


One of the most famous entertainment in Okinawa is Japanese guitar "Sanshin 三線". There are many bars and restaurants where you can enjoy Okinawa's local dishes with AWAMORI 泡盛 while listening to Okinawa music played by Sanshin. Normally they have dance space in front of stage and people enjoy Okinawa dance "Kacha-shi" while rolling their hands in the air and shaking body to the rhythm.

"URANIWA うら庭" is Okinawa restaurant located in Onna-son, provide authentic dishes cooked by local ingredients such as Ishigaki beef, Okinawa pork, seafood and so on and many kinds on Awamori are on the menu such as Zanpa White 25°, Zanpa kusu 43°, Tatsu Kusu 25°, Chatan-Choro special kusu 43°, Manza kusu 40°, Zuisen yellow 30° and more. And also choice of wine, cocktail, Okinawa liqueurs are various. You will find nice one and it makes you enjoy Okinawa style bar more. Menu is written in Japanese and English!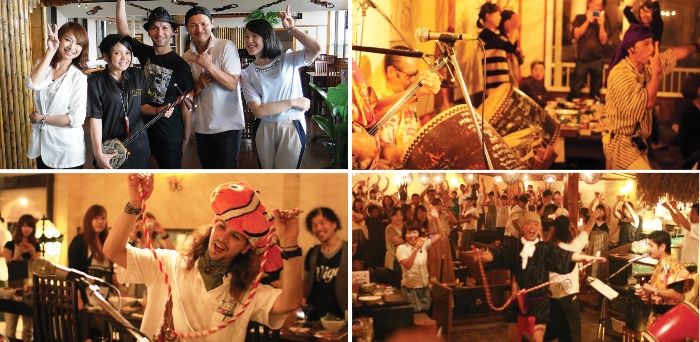 Sanshin music live performs everyday except Thursday, some musicians play sanshin and sing from Okinawa folk songs to even latest pop songs. "Tahchi" is the popular musician who appears to play only on Saturday and many people come to URANIWA to enjoy his performance. He plays not only Sanshin but also acoustic guitar, tambourine and harmonica.

In addition there are 120 seats include outside terrace and they incredibly arrange wedding banquet too. Courtesy bus come to your accommodation if it's around, so even if you are with many friends and families you can try this Sanshin live bar. Some similar restaurants in Naha city charge you entrance fee around 3,000 yen but if you come here you can drink more with that 3,000 yen. Get tipsy with great Awamori and enjoy Sanshin performance!

Awamori dining Bar "URANIWA うら庭"
Address
256 Fuchaku. Onna-son. Kunigami-gun. Okinawa
〒904-0413 沖縄県国頭郡恩納村字冨着256
Opening hour
18:00 – 24:00 (L.O. 23:00)
Close
Thursday
Good for
Group party. Anniversary. party after wedding banquet. family dinner. Friend gathering
Website
http://www.ura-niwa.com/onna_index.html
TEL
098-964-6601
This restaurant is nearby our partner
Kafuu Resort Fuchaku Condo Hotel
. We will try to recommend this restaurant to all our valuable customers who have ceremony/pre wedding or stay at Kafuu resort.
Basic information of Okinawa