Craft Beer BREWERY in Hotel Okura Fukuoka


Hotel Okura Fukuoka is the rare hotel that has beer brewery at its basement, located in very convenient place Hakata ward Fukuoka city. Workers have been producing fresh beer every day since they are open in 1999. Enjoy Hotel Okura's craft beer called "Hakata draft".

The restaurant "Craft Beer & Pizza OKURA BREWERY" which is also located on basement provides not only fresh beer but also fresh pizza made for each order and a la carte dishes which match beers. 3 kinds beer (Koelsch, Alto, Stout) are provided all season and now "IPA (India Pale Ale)" is started to be served as special offered for limited edition.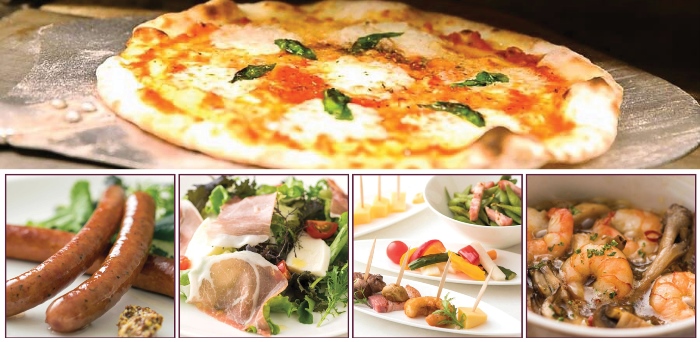 Mixing beer and a brewery yeast into bread dough and making outside crispy and inside springy yet soft is their own recipe. Pizza is cooked in oven with max 450 degree temperature in short time. You can choose one from total 12 different kinds of pizza. In addition, there are various a la carte dishes such as sausage, raw ham and more on the menu. They are always packed with those who want to enjoy authentic foods and craft beer.

The restaurant offer the party package included all you can drink for families and friend group, but it is necessary to book in advance. Would you like to enjoy their "FRESHNESS"?
They often get fully booking soon especially in high season like the end and beginning of a year. So book them as soon as you can.


PIZZA
Margherita 1544 YEN
Prosciutto Funghi 2019 YEN
Calzone 2019 YEN
Melanzane 2376 YEN
and more
A le carte
Peperoncino style beans 475 YEN
Spicy fried potato 475 YEN
Caesar salad w/ raw ham 831 YEN
Raw ham Salad w/ mozzarella cheese 950 YEN
Itoshima Sausage and lamb sausage 1164 YEN
Parma Ham 1164 YEN
and more
Hotel Okura Fukuoka
Address
Hakata Riverain. 3-2 Shimokawabata-cho. Hakata-ku. Fukuoka city
Tel
092 262 1111
Restaurant info
Craft Beer & Pizza OKURA BREWERY
Access
Hotel Okura Fukuoka B1F
Opening hours
5:00 pm – 10:30 pm
Close
Monday (except public holiday)
Tel
092 262 1145
Online booking
Reservation form (Japanese)
Website
Japanese
English
Basic information of Fukuoka