Omelette rice HOKKYOKUSEI Osaka & Kyoto


"Osaka", the second biggest city and know as gourmet town in Japan. There are two big regions in the Osaka city which has many restaurants and dinners. "Kita (north) area" pointed around Osaka station is very busy as business town in day time and you can feel 180 different atmosphere at night. On the other hand, "Minami (south) area" pointed such as Namba (難波) and Shinsaibashi (心斎橋) is known as commercial area. It's so crowded with local people and tourists all day. Lots of people enjoy shopping and Osaka's soul food at American Village (アメ村) or its around.

Hokkyokusei is the restaurant of "Ome-rice" (Omelette rice) which has very long history and located in American Village. In 1925, a regular guest Mr. Kodaka only had ordered omelet and steam rice for weeks as he was having stomachache. One day chef Kitahashi felt sorry that the guest takes same menu every day due to his stomachache and tried to cook ketchup rice with fried mushrooms and onions, and covered it with thin scrambled egg. The guest was impressed by the taste that he had never had, and the chef decide to cook this dish as regular menu. This is the beginning of "Ome-rice" history.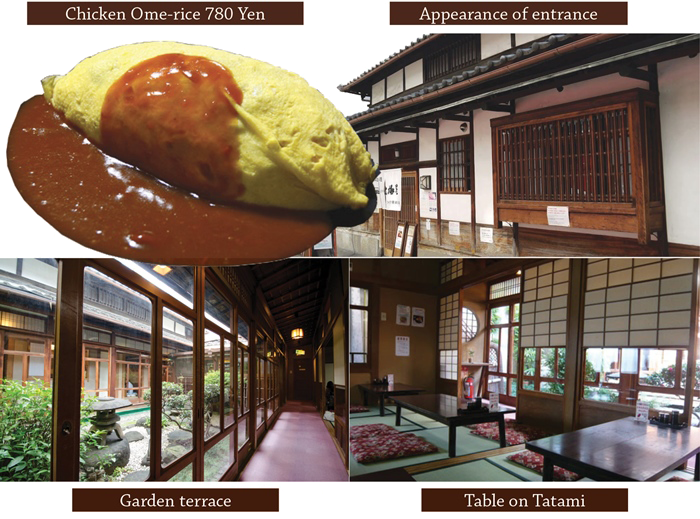 This is their first shop located at Minami area in Osaka. Its appearance makes us feel their long history. Restaurant has Japanese garden terrace inside and all table for the guests on second floor is put on tatami. At the beginning when they opened this restaurant, people said it's unique idea that they serve western food at Japanese traditional house.

They have many customers at lunch time on weekdays and all day on weekend. Their reasonable prices are also the reason why they have been loved by many local people for long time. The price range of standard dishes are from 740 Yen (Hayashi Omelette rice) to 860 Yen (Beef omelette rice). They have 3 shops in Kansai area, it's time to enjoy the taste of original Omelette rice.


| | |
| --- | --- |
| Shinsaibashi shop | |
| Address | 〒542-0086 2-7-27 Nishi-Shinsaibashi. Chuo-ku. Osaka-shi |
| Tel | 06-6211-7829 |
| Opening hours | (Mon-Fri)11:30 am – 10:00 (Sat/Sun/P.H)11:00 am – 10:00 pm |
| Close | 31st Dec / 1st Jan |
| Horie shop | |
| Address | 〒550-0014 3-5-5 Kitahorie. Nishi-ku. Osaka-shi |
| Tel | 06-6531-0453 |
| Opening hours | (Mon-Fri)11:00 am – 10:00 (Sat/Sun/P.H)11:00 am – 9:30 pm |
| Close | 31st Dec / 1st Jan |
| Gion shop | |
| Address | 〒605-0073 300 Kitagawa. Gion-cho. Higashiyama-ku. Kyoto-shi |
| Tel | 075-525-0358 |
| Opening hours | 11:00 am – 9:30 pm |
| Close | None |
Basic information of Osaka
Basic information of Kyoto