"INN 5 Days" accommodation in Kyoto


Every time we go trip for days, it is necessary to book accommodation to stay. Hotel, hostel, inn, bungalow, cottage,,, There are some different kinds of accommodation as your choice. I bet Kyoto is the place there are most inns of all cities in the world. Many inns in Kyoto renovates Japanese old mansion very nicely while keeping its beautiful yet traditional appearance. Nowadays young people search reasonable and suitable accommodation by Airbnb and I'm also the one booked one inn for my business trip through Airbnb and would like to introduce the inn I had stayed.

"Shijo Horikawa INN 5 Days" is located in the area between Hankyu Omiya station and Shijo Karasuma station. It's convenient location and you can walk to shopping district Shijo area. They only manage two guest rooms to focus service quality and guest's satisfaction. The owner Noriyasu san and assistant Yuko san are very friendly and treated me so nicely. They showed the map and navigated me to my destination and advised when I should leave every time.
The room that I stayed "Ikazuchi" was perfectly renovated, large enough for 8 guests, very clean, pretty quiet and so much comfortable. Feeling when you lie down on bedding laid on Tatami is different from the one you feel on the bed.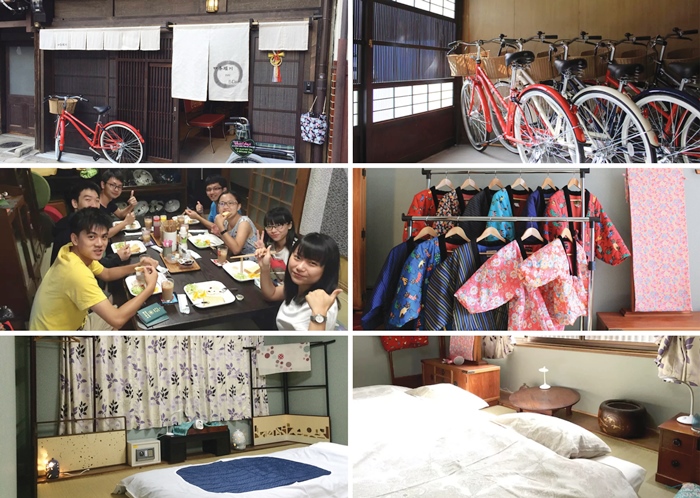 They sell souvenir at reception such as Yukata, sundry goods and so on. I saw 5 females from Taiwan choosing yukata while listening Yuko san's advise. Up to 8 guests can stay at same room so if you have families or friends to stay together, price become more reasonable. And you can borrow bicycle so it must be good idea that ride it and go around with your friends and families.

Because of Noriyasu san and Yuko san's personality, they already have lots of repeaters and getting more and more guests recently so they easily get fully booking even weekdays and non busy season. In anyway, I will definitely try to book them and stay there again when I visit to Kyoto next time too. INN 5 Days is my highly recommendation to all people. Hope you feel their great service and enjoy staying this fantastic accommodation.


| IKAZUCHI | (Big size) | | KAZE | (Midium size) | |
| --- | --- | --- | --- | --- | --- |
| Guests | Per person | Total | Guests | Per person | Total |
| 2 | 7800 | 15600 | 2 | 5000 | 10000 |
| 3 | 5600 | 16800 | 3 | 4300 | 12900 |
| 4 | 4500 | 18000 | 4 | 3400 | 13600 |
| 5 | 4000 | 20000 | | | |
| 6 | 3700 | 22200 | | | |
| 7 | 3400 | 23800 | | | |
| 8 | 3200 | 25600 | | Tax included. | |
| | | | | | |
Information
Address
91 Nishiayanokōji Nishihanchō. Shimogyo-ku. Kyoto-shi. Kyoto. 600-8478
TEL
075-708-7290
Check-in
16:00-21:00
Check-out
7:00-10:00

Basic information of Kyoto