Kobe Luminarie 2016


No doubt everybody still remember "Hanshin Awaji earthquake 阪神淡路大震災". It is a horrible disaster that hit Kansai area on 17th January 1995. Around 6,500 people were killed by this huge earthquake and 99% of victims Had been living in Hyogo prefectures. One of the biggest cities is Japan "Kobe" was also effected badly, all transportation was stopped, there are fires at many places is the city, water and electricity current supply were cut by big shake. People's "usual" disappeared in a moment and all we could see was catastrophic damages afterwards.

In such tough situation, "Kobe Luminarie" is started as the event of reconstruction with the theme "Light of hope to Kobe" in the same year. The organization is established by Hyogo prefecture and Kobe city, and JR west Japan joined them as a special sponsor. Since 1995 this event was constantly held every year so far, and today known as the event of end of the year in Kobe.

The illumination designed by different artists from the world was so much fantastic yet captivating with uncountable lights. The various colored each small lights build up big art that was design among the theme of the year.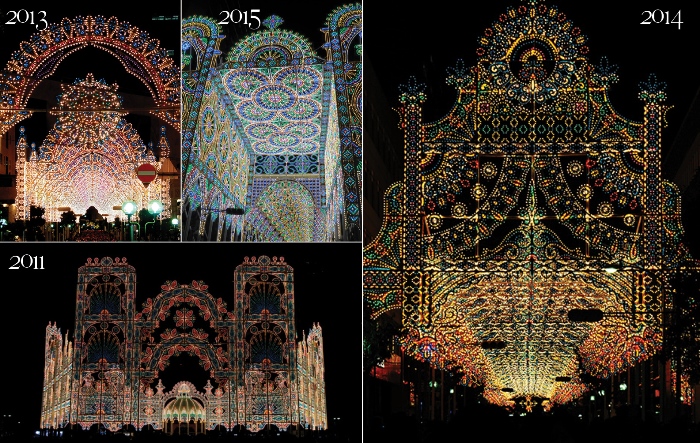 The times they turn on the lights are 6:00 pm on weekday and 5:00 pm on weekend. The moment of lighting up is very fantastic. If you want to see this moment, we recommend you to be there at least 15 minutes before the lighting up. But don't get too close to the entrance of arch, watching from a bit far points is the best in my opinion.



And this is a message from an artist DANIEL MONTEBELTE who designed the illumination of 2016.


"Kobe Luminarie", a winter festival weaved with the lights of
praying for repose souls and hope for the future.

Kobe has been reviving from earthquake as phoenix
with much dedication and great efforts of the its citizens.

Along with the eternal prayers to the victims,
Praise to the hope and fortitude of the people,
And of the glorious revival joy.

The 22nd Kobe Luminarie entrusted the hope and memories
to majestic "lyrics of 300,000 lights",
and hand it down in the next generation.

DANIEL MONTEBELTE
Kobe Luminarie
Period
2nd December (Fri) – 11th December (Sun) 2016
Time
(Mon-Thu) 6:00 pm – 9:30 pm
(Fri) 6:00 pm – 10:00 pm
(Sat) 5:00 pm – 10:00 pm
(Sun) 5:00 pm – 9:30 pm
Venue
旧外国人居留地および東遊園地
Website
http://www.kobe-luminarie.jp/index.html
Basic information of Osaka