Kyoto Wagasi "KAMEYA YOSHINAGA"



Many craft men and artisans of carious world of specialty had cultivated tradition in Kyoto from ancient times. Japanese confectionery is also one of these traditions known by even foreign people. They KAMEYA YOSHINAGA established over 210 years ago, offer "Japanese confectionery making lesson" for all visitors to Kyoto. You can try to make "Namagashi 生菓子" which means "raw sweet" and served for traditional tea ceremony. Experienced artisan instructs well how to make seasonable Namagashi which is expressed with their unique idea.

They will provide 10% discount coupons for shopping to all those who join the lesson. Chinese and English interpreter will support you during the lesson.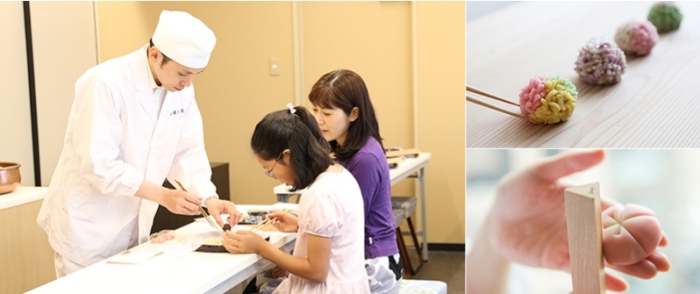 | Shop | KAMEYA YOSHINAGA (亀屋良長) |
| --- | --- |
| Address | 〒600-8498 京都府京都市下京区四条通油小路西入柏屋町17-19 |
| Lesson hours | 2:00 pm (70 minutes) |
| Price | Adult: 2700 YEN (Tax included) |
| | Student (up to 18 years): 2160 YEN (Tax included) |
| Reservation | At least two people are required |
| Tel | 075-221-2005 |
| Application | Click here (English) |
| Official website | "KAMEYA YOSHINAGA (亀屋良長)" |
Make seasonal 2 types of "Nerikiri (bean or rice paste with sugar)" and "Kinton (mashed sweet bean)" confectionaries (total of 3) with our artisans. Demonstration of "Higashi (dry sweets)" making. Tasting of just-made confectionaries with Matcha (powdered green tea). *student participants will have Houji-cha (roasted green tea).
This is a shop that our customer recommended us to try. Thank you so much for your attention. Hope you have time to go and try!
Basic information of Kyoto