Legal marriage registration in Japan



In Hong Kong, there are a lot of couples who would like to go oversea for their wedding (pre wedding, ceremony, legal wedding, banquet and so on). They mostly choose abroad to make their marriage so special, but some may go for confidential wedding or other reasons too. Submitting marriage registry and getting married at your memorial place in oversea must be so meaningful. It's called 'Legal wedding" and sold as an optional service in wedding industry by many bridal companies in Hong Kong. But it is necessary to contact to Japanese registration office since long time advance of your marriage to flow all procedures, and companies sometime fail to finalize marriage registration. Since we are Japanese company we are sure that we can support you better.

The first couple who have legal wedding in Fukuoka prefecture was managed by Ema Mino. Also, we operate legal wedding in Okinawa, Tokyo, Karuizawa and Hokkaido as well. But all city offices/ward offices (registration office) do not always demand agency to submit same documents. So it is quite important to choose experienced and trustable agency to make your legal wedding successful.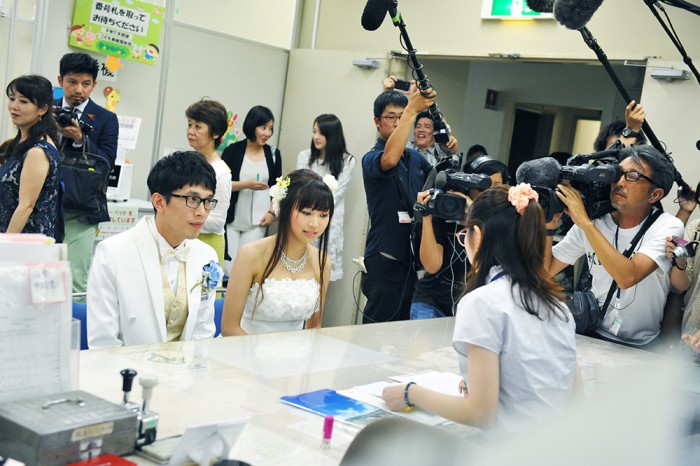 【What kind of documents we should prepare for legal wedding?】


The following documents are required from couples:
1. Birth Certificate
2. Hong Kong ID card
3. Passport
4. Single Certificate (The one which proves there is no record that both bride and groom submit marriage registration)
5. All Documents translated in Japanese
【Why is oversea wedding popular with young generation?】
Most of companies support legal wedding only for those who choose their ceremony package. Nowadays if the young couples organize Chinese traditional wedding ceremony in Hong Kong, minimum charge is at least few hundred thousand Hong Kong dollars and need to spend much time and energy to fix everything. this is too much effort for the young couple. That is the reason why more and more couples change their mind and starting to think about the oversea wedding / legal marriage registration. It can save their budget and also can become their honeymoon at the same place.
【Legal marriage registration procedure】
Official registration will be done with your original documents in Japan.
Even missing one document can't make your registry completed.
We spend much time for preparation but it actually only takes approximately 30 minutes on that day. Some offices issue your marriage certificate immediately but some offices takes days to issue it. We support to send it back to Hong Kong from Japan and prepare English certificate with an official stamp of registration office.
At last, we hope more couples choose Japan as unforgettable place that they marry, and they go back to the place with their kids in the close future.
Contact us now