Sapporo Snow Festival 2017


The 68th Sapporo snow Festival 2017 started yesterday (6th February) and will be held until 12th February Sunday. This is the largest and best-known snow festival in Japan. There are lots of tourists from not only other prefectures in Japan but also overseas.
Sapporo Snow Festival features approximately 200 snow and ice sculptures spread across down town Sapporo. Main theme of this year is Star Wars, meaning 40th anniversary of original movie. Big snow sculptures entitled "White Star Wars" are shown at main venue.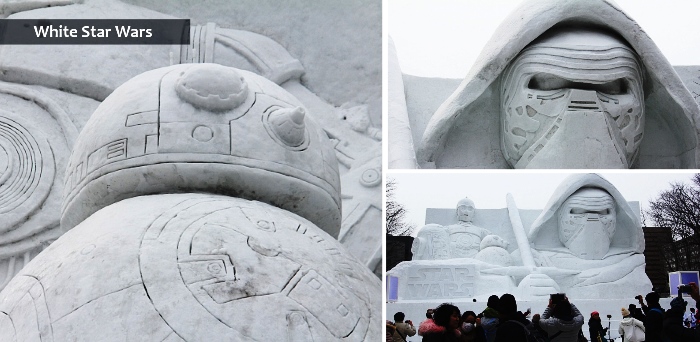 This festival has an important meaning as a relationship with international society. Every year there is a sculpture of a building that exists in a foreign country. This year features a sculpture of the Taipei Guest House, an impressive building that was originally the residence of the Japanese Governor General during Japan's rule over the island. This project shows us different history with different country every year.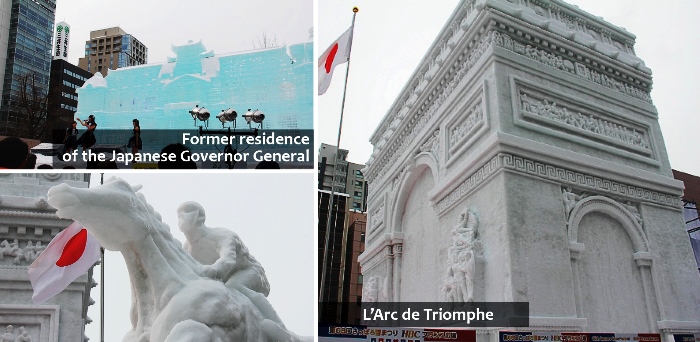 There is also a sculpture of France's Arc de Triomphe, next to which is a snow statue of a horse and Jockey. The two sculptures together express a wish that a horse born and raised in Hokkaido might one day win the prestigious Prix de L'Arc de Triomphe horse race.
On the other hand, you can see sculpture of 2016's symbol "Piko Taro's Apple-Pen" and "Donald Trump" too. These are very popular with kids too and this time is the last time to see them as snow sculpture.
They serve a variety of Hokkaido specialties and international foods are dotted throughout Odori Park. Many of them are located in the park's center making a food fair. Would you like to visit there and enjoy historical and latest appearance in snow sculptures.