Thank you for visiting our booth in HK wedding fair!


The 88th Hong Kong Wedding Expo was held on 11-13 August at Hong Kong Exhibition and Convention Centre. This time, Ema Mino was the one which applied to the organizer to join, and designed and finished our booth. So we start to prepare 3 months advance and had spent much time for everything that we need. But thanks to kind constructor, all is done as same as our expectation. Printing of dropped leaves was stuck on the floor to show our concept "maple leaf season" which come to Japan months later.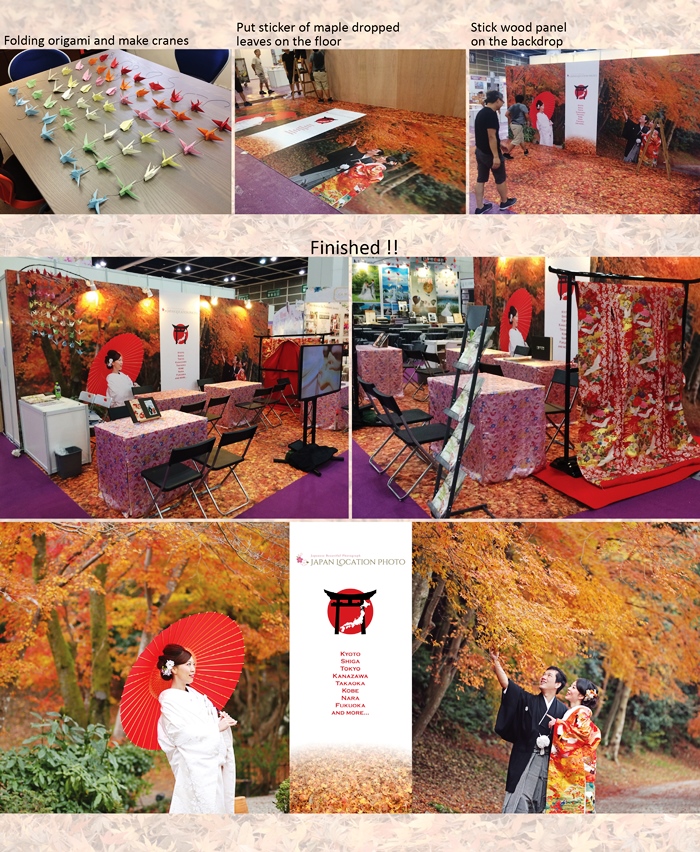 Basically, less visitors join the wedding fair/expo in August due to this hot weather compared to other seasons. Unfortunately, it was obvious that we didn't see many couples this time too. There was no line at ticket counter before 2:00pm even on Saturday and Sunday. It was almost 5:00 pm when we started to see more people.

Mainly we had suggested and sold packages of Kyoto and Hikone for 3 days this time. Historical region Hikone was not known by many people yet, but we finally got orders from couples looking for a shooting spot that there are not much people at or somewhere few Hong Kong couples choose. We are now more proud of those regions and Japanese pre wedding as Hikone castle and Genkyuen (玄宮園) that our customers chose are great shooting spots that you feel Japanese history.

By the way we are already started to plan to join Hong Kong Wedding Expo held on 3-5 November, make our own design booth again. We will inform details later after everything is fixed. Look forward it please.

Thank you so much again for visiting our booth and giving orders!!

We do this again and see you soon.