The most liked photo on our Instagram is updated



We have been updating a new photo to Instagram almost every day since the beginning of 2016. The photo that the most people have pressed "like" so far is taken by KAFUU WEDDING and we uploaded it to Instagram in April. But today we got more like on a photo than KAFUU WEDDING's one. So we are showing it today with our respect.

The photo that got "crown" this time is also photo of Okinawa prefecture. We estimate around 40 – 50% of all coupes go to Japan for wedding choose Okinawa as their destination. On our Instagram we are getting many "Like" on photos of other prefectures. But we admit many couples in Hong Kong like Okinawa so much. According to the report from Be.Okinawa, over 500 couples have wedding ceremony at Okinawa every year. And it's getting more and more.

By the way J.P.A. photography crew get this honor this time. We started to work with them just a few weeks before and the crew has many photographers throughout Japan. So now no matter which prefectures our customers choose we can provide packages. As you see the following photo they will serve very well and we hope they continue to collect more "Like" on our Instagram.

Congratulations J.P.A. West Japan!!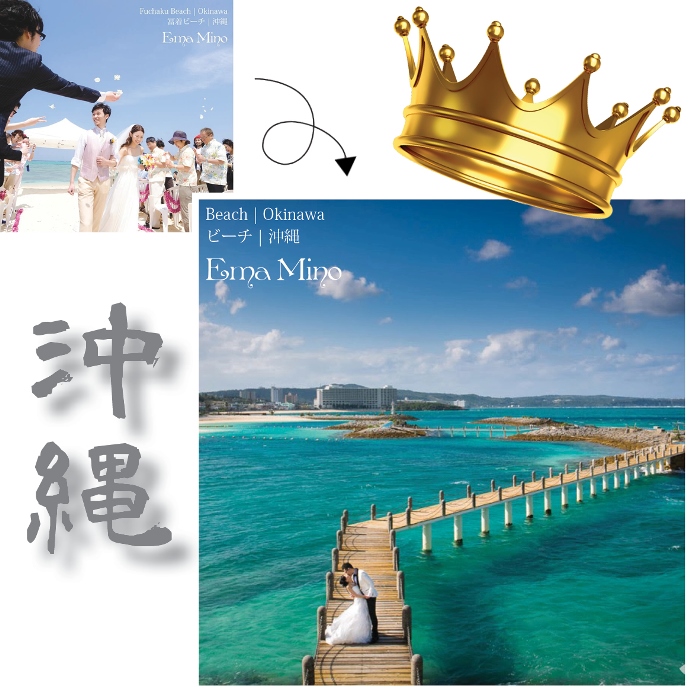 Photography: J.P.A. West Japan

If you are interested in this crew contact us now.

Photography crews list (Okinawa)
We are agency of Japanese photography teams and provide packages for other prefectures too. So honestly speaking, we would like other prefecture to get this honor too. Sakura and maple leaf scene in Kyoto and Nara, vivid colored flower scene in Hokkaido and Fukuoka, fantastic light up illumination in Tokyo and Yokohama, natural landscape in Nagano and Shizuoka, modern city Kobe… You have much of location choices now.
We will keep on updating photos to Instagram constantly and hope it will be helpful for you to find your best location and shooting idea. Please follow our Instagram page and check our fresh photos.

Visit our Instagram and follow us