"Travel Japan Wifi" (Mobile app)


When you go travel to abroad, internet must be essential to see a map, find and reserve restaurant, search transportation and other reasons. Your travel can be made more fun with sending photos to family and friends on whatsapp and sharing interesting moment on facebook.

Today we are going to introduce a convenient app for those who are planning to travel to Japan. There are many ways to connect internet such as prepaid SIM card and pocket wifi. But this is information of free app that you don't need to pay at all. Download and Try it now!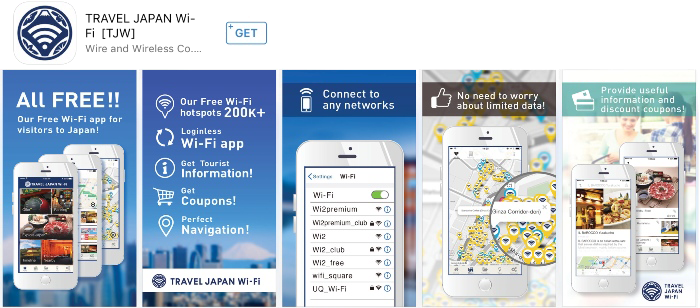 You can download this app "Travel Japan wifi", available for non-Japanese iTunes and Google Play accounts, even before you arrive at Japan (or when you arrive there). It offers seriously comprehensive yet reliable coverage, connecting to over 200,000 wifi hotspots across the country, as well as showing useful local area navigation and tourist information. In addition, discount coupons are also provided for tourists as privilege, you will get bargain or discount in affiliated places like "Bic Camera", "Edion", a very popular BBQ restaurant "Gyu-kaku" and much more.

Travel Japan wifi keep on hand you coupons available to use every now and then. And you will know the good sightseeing spots around that it informs, so it must be a good tool especially when you go where you had not been to. There's nothing troublesome about trying to login and it obviously can help you a lot while you are in Japan, so why don't you try it?

Over 200,000 free wifi hotspots are built and prepared for foreign tourists and must be helpful. It's up to you how to use this app for yourself. It's also good idea if you can show LIVE of your pre wedding!! Make your travel more fun with the money you could save and advantageous coupons!