Travel with BUS in Kyoto


One of the most popular travel destinations in Japan "Kyoto". There are lots of sightseeing spots there such as traditional shrines, temples, old stone paving street and so on. Visitors normally check information of those spots in advance to make their schedule run smoothly. And for transportation in Kyoto for your travel, as I mentioned a few times on our website I highly recommend two kinds of buses managed by Kyoto city and Kyoto Bus Co., Ltd (kyofuku group) for your travel.

These two buses are enjoyable with using same 1 day pass card which is only 500 Yen for a day. Their fixed fare is 230 Yen per each ride, so it mean it's worth buying this one day pass for those who take bus three times or more. This pass was actually for city bus only before, but now it is useful for Kyoto bus as well. The design of card also has been changed and its available area had spread out and not bus become the most convenient transportation in Kyoto.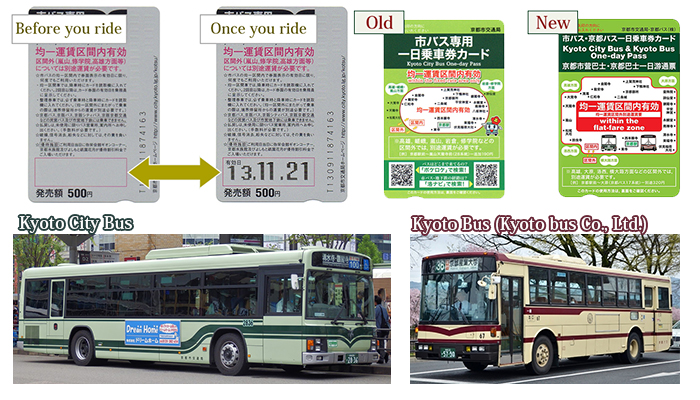 [Use one day pass]
You can get one day pass not only at bus or Subway customer center, Navigation counter, ticket center, vending machine and even from bus driver. Sometime the passes from driver in the bus are sold out. If you have time in advance, it is much better to get it before you take bus. There is space to mark the date you can use on the back of card. At the first time you ride bus in a day, please insert your card to machine then it mark the date automatically. From 2nd ride when you get off the bus, you do no need to insert car any more. Just showing the driver the date marked on card is enough. You can ride buses over and over all day.

[Pay fares by cash]
The fare is fixed 230 Yen (adult) and 120 Yen (child) per each ride (*limited area). Every time you get off the bus you put note or coins to machine and it give you back change automatically too. Only when your destination is out of city, fare will be changed. Please check the area that you can move in same fare in advance. The area is shown on the map clearly.



How to go your destination? How to see the map?
1. Find where you are and closest bus stop and make sure which bus stop is nearest by your destination on the bus map.

2. Find the mutual numbers written in both stops of your starting point and destination.

3. For example, you are now at "Shijo-Omiya 四条大宮" and heading to "Gion 祇園", and mutual bus numbers are 46 / 201 / 203 / 206 / 207.

4. Make sure which bus (number) is going to destination in the shortest distance.

5. Number 46 / 201 / 203 and 207 is shown on the shortest distance, but 206 is not on the line. It means bus 206 still go through "Gion 祇園" but not in the shortest distance.

6. You can take buses of same numbers in your way back to "Shijo-Omiya 四条大宮" from "Gion 祇園".

There is a bus ticket center in front of Kyoto station. If you can drop by ticket center to get one day pass right after you arrive at Kyoto, you can use the card on the way to your hotel as well. Since tickets they sell are not marked date that you can use, so it is possible to buy some in the lump and use a new card every day.




We hope this blog support your trip and save your money and time in Kyoto.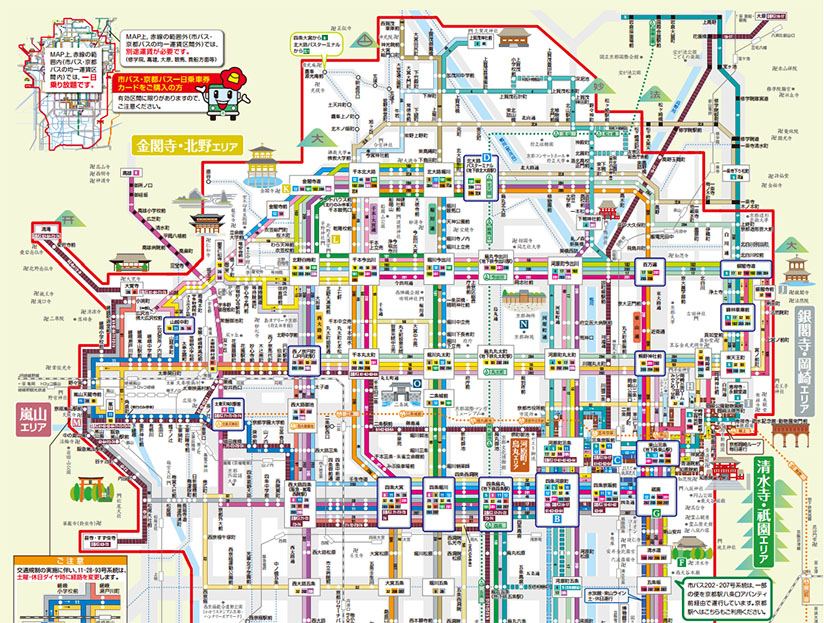 Basic information of Kyoto