Welcome board for wedding ceremony


One of the biggest events in our entire life "Wedding ceremony". There must be many couples want to have a different ceremony from others, make your ceremony special that friends never had, make all guests surprised.
The thing we see at the reception in wedding ceremony is their welcome board. So we should be articular about this item shouldn't we? Therefore, we are showing some unique idea from all of the world here today. Some would be able to change guest's impression and atmosphere of your ceremony's venue. Check and refer it.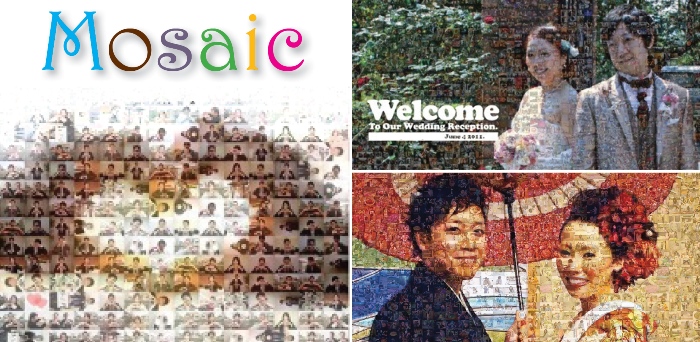 Mosaic A mosaic picture is made by heaps memorial photos which had taken since the day you meet boyfriend/girlfriend until your marriage. This is "one" fantastic picture that you can see lots of happy moments that two of you spent together. As you can select as much pictures as you want, so of course photos of your family and friends also can be put together. That's a good method to make guests enjoy much. If you put it on the wall at home after ceremony, probably it will never make you forget each moment of each picture.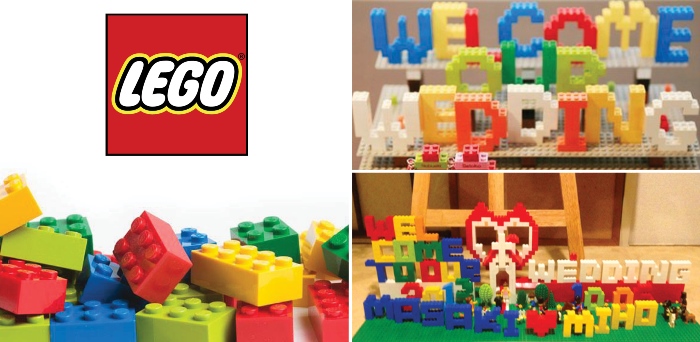 LEGO This is the best idea if you want to try to catch guests' eye and attention. What can be made by pieces of various colored LEGO is just up to you. Put on the wall like signboard? Build up something on the table? If you planning to create something with complicated design you need huge pieces of LEGO so it is better to prepare early. And if you are a beginner for LEGO you can refer instruction movie on internet.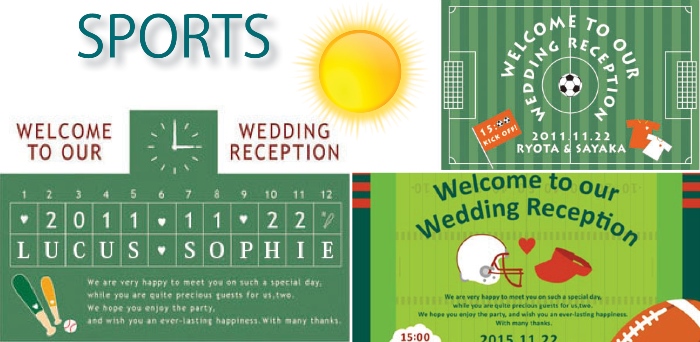 Sports Japanese couples also often use some sports items for wedding invitation card or welcome board because of some meaningful reasons such as couple play same sport, they met when he was a player and she was a cheerleader in a same team, went to watch the football match for their first date and so on. Additionally, they use ball as message "ball" that all guests can write something or even wear their uniforms with old school team mates in the ceremony. For those who had concentrated playing sports, those items are helpful to remind them memory of earlier years.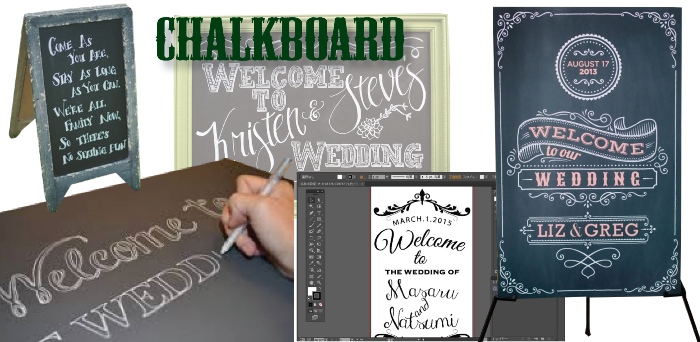 Chalkboard We guess the most difficult item to create in these things is this chalkboard. All skills and sense you need on designing and making is obviously degree of difficulty "E". There are many professional artists on this work. Most of designs looks like old school logos and retro or vintage signboard, normally drawn by Adobe illustrator first as rough sketch. After rough sketch is completed, it is drawn on the chalkboard with inconspicuous color line and trace these lines carefully with chalk. It would take much time to finish, but you must see the board which has warmness of handwriting when it is completed.

Nowadays we have been hearing the work D.I.Y (Do It Yourself).
Would you like to make some original items for your special ceremony??