HKD 7,200!! for Pre wedding + Legal marriage registry


We just now published "Pre wedding and Legal wedding registry package (HKD 7,200 for only one couple) as 1st promotional package in 2017. This package is promoted in very reasonable price with cooperation of Tachiarai cho (福岡県大刀洗町) that started to accept legal wedding registry in 2016.

The package is incredibly only HKD 7,200 and includes…

1 Tuxedo | 1 wedding dress | Photographer (250 soft copies) | Hair styling (Groom and bride) | Make up (bride) | Photo retouch (25 pcs) | Transportation fee | Interpreter (English or Cantonese) | Legal wedding registry | Translate for marriage certificate

The crew that serves you in Fukuoka is a new wedding producer team named "WEDDING CONCIERGE". We Ema Mino and WEDDING CONCIERGE are in process now to start working with and soon to publish pre wedding package for shooting in Fukuoka. Their motto "Never say NO at couple's requirement" and their hospitality must make you satisfied.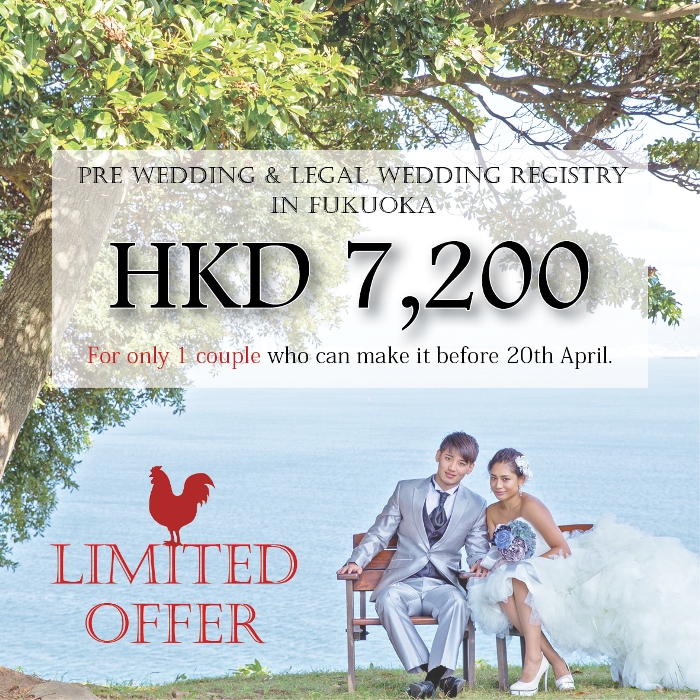 In anyway, this promotion is for only one couple. We believe you will not feel any language barrier there since an English or Cantonese interpreter will accompany you for whole schedule.

A couple who is going to choose Fukuoka for pre wedding and legal wedding marriage registry or a couple who's just planning to go to Fukuoka for sightseeing by 20th April, otherwise even a couple who accidentally saw this news… We are looking forward to contact from you.

Once again it is only one couple that we can serve with this price for. There is no 2nd prize.