Christmas promotion HKD 1,000 discount


Merry Christmas universe!!

Only three weeks left to new year, it's getting colder in Hong Kong, our town is illuminated for X'mas. We Ema Mino want couples and families to become happier in Christmas and now we are in X'mas promotion period. Those who apply our package by 3:00 pm on 24th December will have HKD 1,000 discount no matter where you go, when the date of your shooting / wedding ceremony is, which genre of photo you choose. After X'mas, high season of travel to Japan such as Chinese new year and cherry blossom season will come soon and many tourists go to Japan for their vacations. You can apply our package for these high seasons as well.

The detail of our package will never change even in this promotional period. All privileges that you can get only when you book through us are also available. Order your photo shooting in this reasonable promotional period and feel Japanese service quality.

There are some dates that some photography crews are no longer available for shooting in sakura (cherry blossom) scene. If you are considering photo shooting in this season especially the beginning of April, you are better to hurry up for your decision and fixing your schedule.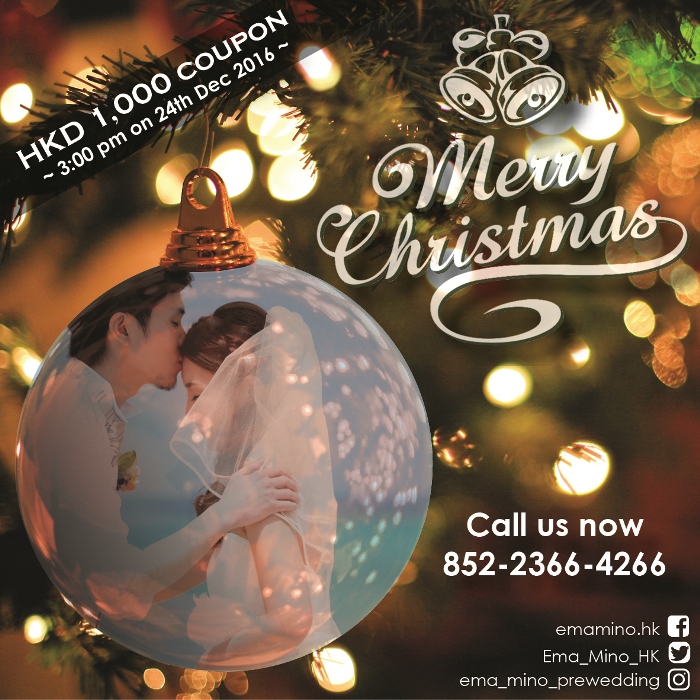 Contact us
Office information

| | |
| --- | --- |
| Address | Flat 01. 5/F Cammer Commercial Building. 30-32 Cameron Road. Kowloon. HK |
| e mail | info@ema-mino.com |
| Tel | +852 2366 4266 |
| Fax | +852 2366 4299 |
| Business hours | 10:00 am – 7:00 pm (Monday to Friday) |
| | 10:00 am – 3:00 pm (Saturday. Sunday and Public Holiday) |
| Close | Irregular (Mentioned on sidebar of website) |
| | |