Happy new year (Report of business trip to Fukuoka)


Happy New Year 2017
Thanks to all customers from many countries who chose us, we had a great year in 2016. And also we would like thank all Japanese photography crew and wedding producer for providing great packages for us and our customers. We promise to try to improve our service quality and serve customers well with the spirits of Japanese hospitality "OMOTENASHI".
As first action of 2017, we went to Fukuoka prefecture to have discussion for making new packages for this year, had meeting with new crews that we are going to work with shortly and other crews that we have been working.
Here are some snap photos that we took there during business trip, and you will see more pictures when we start to provide their new services.
Look forward to "NEW FUKUOKA" of 2017.
Thank you so much for your continuous support.

RES WEDDING
On 28 December, we visited to RES WEDDING that we had introduced since last spring. The salon has two stories with many unique indoor studios which can cover most of customer's requirements such as family photo, maternity, kid's photo, pre wedding and so on. They renews all packages shortly and starts to serve indoor shooting as well.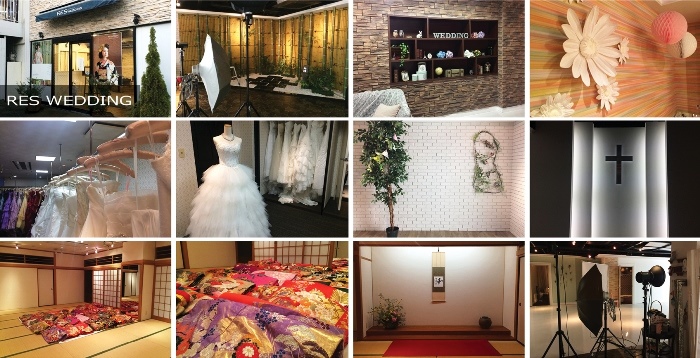 Saki Wedding
SAKI WEDDING which has been working in collaboration with many wedding chapels and churches is in process to make "Horse riding pre wedding". Munakata city is the perfect location for photo shooting while you are riding horse in sunset scene. We are sure we will make photos more elegant in 2017 with Saki Wedding. In addition, Saki Wedding will have two more salons in Munakata city and Nokonoshima Island. We are excited to publish you them soon.




cita-cita
cita cita is very popular wedding planner team in Fukuoka, good at arranging outdoor wedding ceremony. Couples produce their own ceremony, share their idea and imagination to the crew first and the crew support to make a unique ceremony in D.I.Y way. "If it doesn't exist we will make." It was a nice meeting and we feel their great service quality.




Photography FEEL
We had meeting with Photography feel as well which will join Hong Kong Wedding Fair held on February, talked about details of packages that we provide and privilege for those who order at the fair. The popular crew that covers all area in Kyushu on their service will land Hong Kong very soon. The details of the fair will be informed soon on our SNS again. See you at our booth in wedding fair. A couple required fireworks for their photo shooting on 12th January. We are going to try our best for all your requirements this year too.




p.16
They are a new crew consisted by popular hair make artists and photographers in Kitakyushu city. Photographers work for various kinds of shooting like advertisements, merchandises, foods and of course wedding. We started discussion with them in 2016 and making attractive pre wedding packages served in Kitakyushu. They are first crew located in Kitakyushu city so you can expect to have location choices that you had never seen so far.




We also expect many packages and services from them in this year. Fukuoka might be chosen by most couples of all of our customers and become No.1 destination instead of Kyoto in 2017.