Welcome to paradise! HOTEL GREGES debut!!
One of the most luxurious accommodation in Fukuoka,
"HOTEL GREGES" debut!!

A huge white tower rises along the coast in Munakata city "HOTEL GREGES". Its figure surrounded by forest's green and ocean's blue is worthy to be called paradise. This accommodation only has 6 guest rooms. All rooms face to horizon and its beautiful sunset scene continues to attract people.

Today we Ema Mino started to sell their pre wedding and ceremony packages. Both we had spent half year to produce these packages and now we can say that our service would make you so satisfied with our real confidence. It costs you around HKD 8,000 to stay there and get 2 meals (dinner and breakfast) usually. But HOTEL GREGES gives you one night staying and 2 meals for free as their privilege no matter whichever you choose pre wedding or ceremony package. We will going to arrange not only pre wedding and ceremony but also banquet package and promise to make your day unforgettable.

This is where you are going to stay at soon.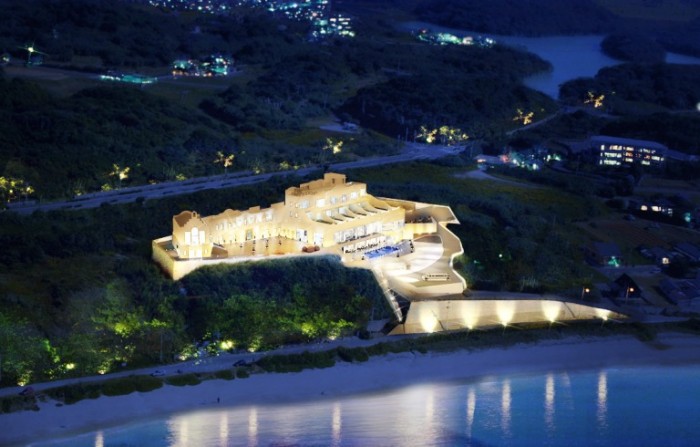 Locations for pre wedding are various such as beach, forest, traditional shrine and also flower garden. We have four seasons in Japan and each season offers different scenes. Do you prefer light pink of cherry blossom, blue sky and yellow sunshine of summer, Yellow orange and red colour of maple leaf, or white of snow scene?
We are pleased to support your special day with their amazing accommodation.
For one and only wedding that no one can copy, we just started provide fantastic packages.
YOKOSO FUKUOKA !!!