NHK international news relates HK wedding fair



(NHK internet news)

A big wedding fair was held in Hong Kong where's a big market of Japanese wedding ceremony or pre wedding. Many companies, associations and local regional offices came to join this fair and show their attraction to get couples. It is getting more and more popular for couples in Hong Kong to have wedding ceremony and pre wedding with Japanese natural scene and traditional buildings. And 21 companies and groups from Japan had joined this wedding fair.

At the exhibition, there were lots of booths from country sides that's not known yet by much people such as Kyushu (九州) and Sanin region (山陰), and they worked hard to sell packages of ceremony and pre wedding photo shooting.
Travelling related with marriage will stay as couple's memorial days for long and let them return to Japan in the future. A staff of one of the exhibitor who came from Ibusuki city Kagoshima (鹿児島県指宿市) said "Ibushuki has traditional Japanese attractiveness, so we hope many tourists visit to our city".

Numbers of tourists from Hong Kong became double in this tow years and 1,830,000 people equal to one of four of the population of Hong Kong had visited to Japan last year. And over 1,000 couples went to either of Okinawa or Hokkaido for wedding ceremony or pre wedding. A lady from Hong Kong considering about Japanese pre wedding said "Japan has beautiful scenery and I'm very interested in wearing kimono".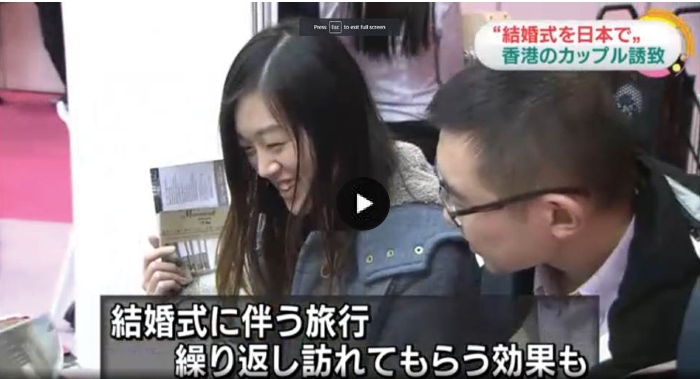 Well, this news reminded us that many couples love our country Japan and expect Japanese hospitality. We promise that we work hard for those couples and try our best for improvement of our service quality every day.

Thank you so much for your continuous support.