News
[Date: 01/09/2017]


First legal wedding in Fukuoka is handled by Ema Mino and SAKI WEDDING in 2015. Since that day SAKI WEDDING has been served many couples so far, and now open shop in Nokonoshima Island (能古島) and offers great packages. There are two packages for pre wedding and garden ceremony, which include short video movie!

Nokonoshima, the island filled with seasonable flowers is good location with access from Middle of Fukuoka city. Please check flower's information (at the bottom of this news) and choose best season!



| | |
| --- | --- |
| Entrance fee | Included |
| Pastor | Will be arranged |
| Organist | Will be arranged |
| Venue decoration | Will be arranged |
| Make-up | Included |
| Hair styling (for bride) | Included |
| Transportation | Included |
| Photography | Ceremony scene and more scenes |
| | 200 photo soft copies are guaranteed in total |
| Video | Will be edited to length of time that you want! (up to 5 mins) |
| Photo album | 10" x 14" (20 pages) |
| *Outfits are not included | |
| *Price is as of 1 September 2017 | |
| | |

| | |
| --- | --- |
| Entrance fee | Included |
| Make-up | Included |
| Hair styling (for bride) | Included |
| Transportation | Included |
| Photography | Ceremony scene and more scenes |
| | 200 photo soft copies are guaranteed in total |
| Video | Will be edited to length of time that you want! (up to 5 mins) |
| Photo album | 10" x 14" (20 pages) |
| *Outfits are not included | |
| *Price is as of 1 September 2017 | |
| | |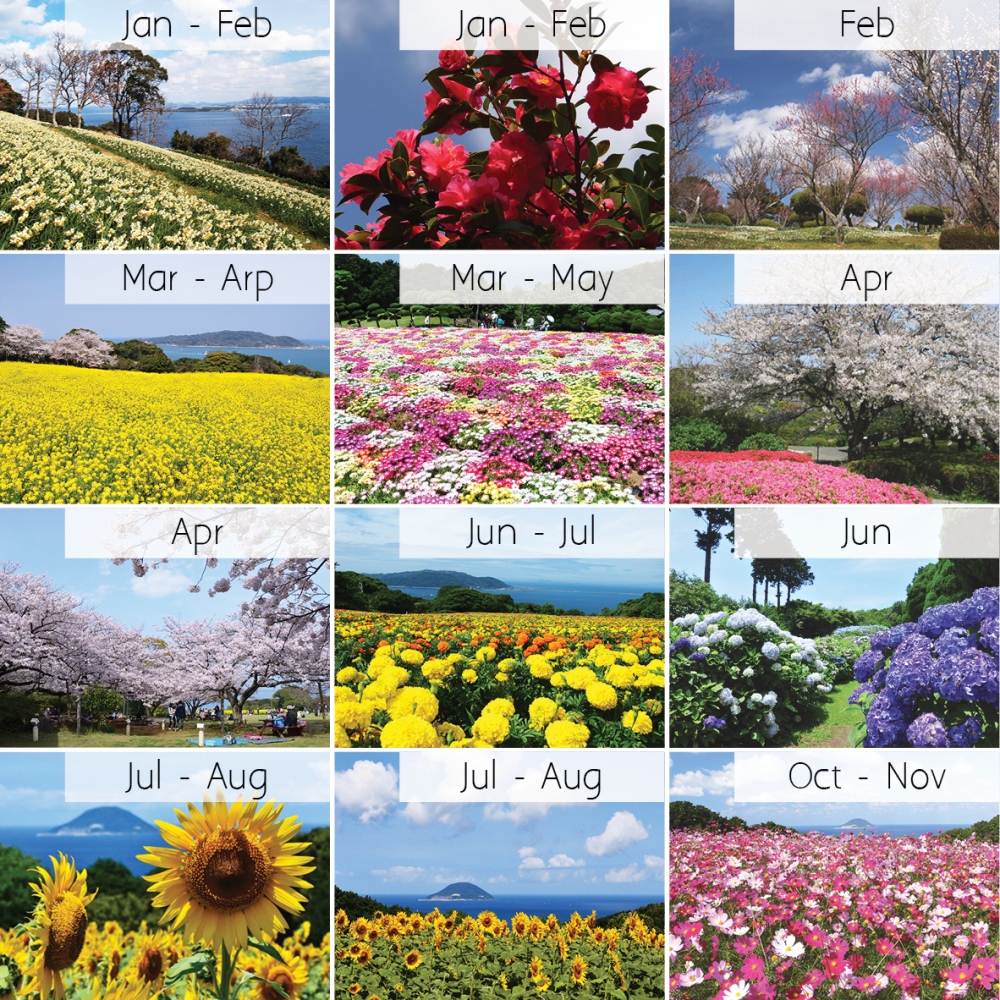 You will see "Japanese Suisen (Narcissus) & Sazanka" in January and February, "Ume (plum)" in February, "Nanohana (Oilseed)" in March and April, "Livingstone daisy" in March-May, "Sakura (Cherry blossom) & Tsutsuji in April, "Marigold" in June and July, "Ajisai" in June, "Himawari (Sunflower)" in July and August, and "Cosmos" in October and November. And after season of cosmos ends, we do not see much flowers until next year.
Contact us now if you are interested in this big deal!!
Basic information of Fukuoka






[Date: 31/07/2017]


Get invitation card from us then you don't have to queue for long.

88th Hong Kong Wedding fair will be held on 11-13 August 2017 at Hong Kong Convention and Exhibition Centre. Ema Mino will be joining in collaboration with JAPAN LOCATION PHOTO and offering new packages at Booth No. G21-23.

For all our valuable customers and your continuous support, we would like to invite those who is planning to come to this wedding fair, pass invitation card to first 20 couples what press/pressed "LIKE" on our facebook fan page.
If you want to get invitation card, please fill up contact form with the following detail and send us!!

① Your account name of facebook
② Mobile number
③ The date and time that you would come to our office to pick up
(Mon-Friday: 10:00am-7:00pm, Sat: 10:00ap-3:00pm). *We are closed on 6th Sunday.

New packages for pre wedding and engagement shooting at not only main spots like Kyoto and Okinawa but also Hikone city Shiga, Kanazawa city Ishikawa and more will be offered for your choices in this fair. In addition, 10% discount will be given to all couples who officially order at our booth.

We are looking forward to seeing you all at our booth.
Send us this form in advance and get free invitation! We will answer you very shortly.








[Date: 28/06/2017]


It's getting close to the end of June and summer season is coming shortly. But we guess there are lots of people planning to go to Japan in November and December for seeing maple leaf. Since many tourists go to Japan in this period as same as cherry blossom season, it will be very difficult to book flight and accommodation in popular destination such as Kyoto and Fukuoka. Moreover, each photography team is booked by Japanese customers for their pre wedding and any other kinds of photos, so dates that they can serve you are getting less and less if you order too late.

So now we are about to offer privilege [HKD 500 discount + 32 pages photo book] for all those give us an order from 1st July to 31st August for shooting in the period 10th November to 20th December. (*this privilege cannot be given with other privileges, special offer and promotional packages)

From now on, we are going to work with many new photography of Tokyo and more prefectures, and this promotion is available with those new packages as well. Autumn's natural landscape with vivid red and yellow color ensures beautiful photos and unforgettable memory.

We are looking forward to hearing from you. Don't miss this chance.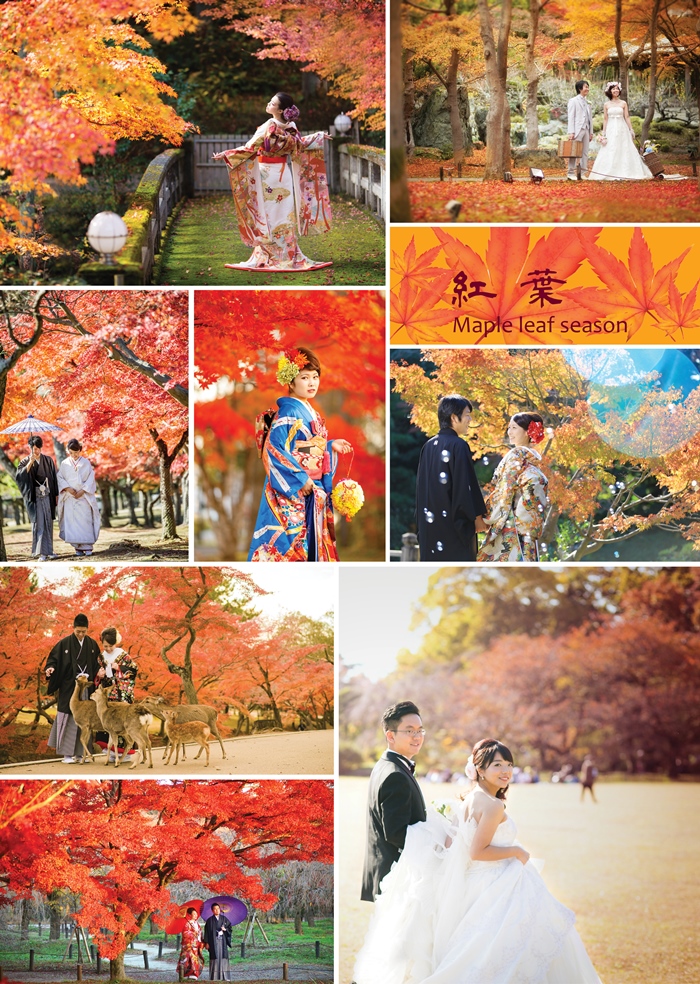 [Date: 29/05/2017]



It's sad news that we actually don't want to write this on news.

KAFUU WEDDING Okinawa that we met in 2014 and had worked as partner since 2015, temporarily stopped to accept new orders of wedding packages because of planning of facility's renovation. They announced they are still making a plan and renovation will be started after 2017 but they have not announced specific period. So we also unfortunately need to stop to suggest their packages temporarily in a while.

We had seen many couples and their family spent good time at guest room in KAFUU FUCHAKU CONDO HOTEL which face beautiful ocean and enjoy pre wedding and ceremony at their unique shaped chapel. So this news makes us feel so sorry.

When they will start wedding service again is not announced yet since even the renovation schedule is not completed yet. But you are still able to book their accommodation for staying.
And we promise that KAFUU WEDDING would serve those who already order our package with authentic hospitality. It is necessary for us to wait for when they start to accept our order after our last customer is served on 30th October.

Since renovation schedule is not completely fixed either, so we guess it would take long time. But at the same time, we are looking forward to the day that we can provide better package with their new facilities.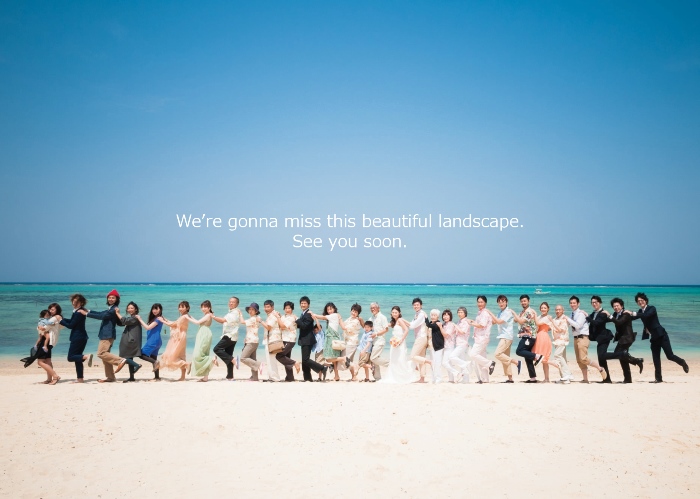 Thank you so much for your understanding and continuous support.








[Date: 25/04/2017]


We are starting to introduce a new photography "Bridal Photo Works" which has salons in Kyoto and Shiga prefecture located next to Kyoto. They are a company with long history since their founding as authentic outfits rental shop, deal with various outfits for not only pre wedding but also wedding ceremony and banquet.

Kyoto salon is located in Higashiyama area near by Kiyomizu-dera temple (清水寺) and Gion, serves shooting at many locations that other photography don't work at. Basically they are closed every Wednesday, but opened even in Wednesday for foreign couple and family if they get order for shooting.

Shiga salon is located in Hikone city (彦根市) along lake Biwa (琵琶湖). Hikone has lots of historical scenery which offer great atmosphere for photo shooting with Kimono. On the other hand there are locations which suit wedding dress and tuxedo as well such as silent forest and chapel standing next to Lake Biwa.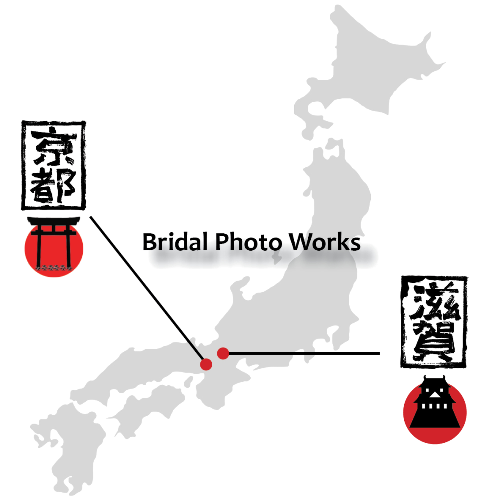 On the shooting date, Chinese or English speaking interpreter will accompany you. So kindly let us know in advance which language you prefer. And they provide small snack for your break time. Please enjoy your break time as well while shooting.

In addition, they are going to come and exhibit HK wedding fair held in coming August and we are now preparing for it. We are very glad to be able to work with a new photography team from new prefecture and giving another new choice for pre wedding in Kyoto.










[Date: 06/04/2017]


We are happy to announce here is a campaign for all brides planning to choose Kyoto Kojitsu photography  and have shooting at Kyoto in June "Free for extra 1 Kimono" (for only 2 couple per day)

Now Kyoto is in just best period for seeing sakura. But today we are about to start next campaign for people planning to shoot in June in Kyoto. "Extra 1 kimono" of Kyoto kojitsu's package (HKD 2,000 normally) is enjoyable without extra fee. Even the most reasonable package which is provided by Kyoto Kojitsu guarantees "2 locations" and "500 soft copies". It means brides will be served at 2 locations with 2 different kimonos. And of course the price is never changed. You can select 2 kimono freely from Irouchikake (色打掛) and Shiromuku (白無垢), the combination is just up to your preference. It might be a good idea that you enjoy 2 kimono with totally different style. In addition, as usual Ema Mino's customers do never need to pay the fee for any grade of kimono.

*Please be noted the day of your shooting much be in a period (1st June 2017 Thursday to 30th June 2017 Friday), and this campaign is only offered for 2 couples per day.



Here is just a part of all kimono choices that you can select. Well, all their selections are quite authentic yet beautiful so we guess it is a bit difficult to choose two from all these all choices. You can have fun with the time you choose your kimono.

Fix your day in this campaign period and get 500 photos with two different authentic kimono!! Contact us now if you want to join!!

*Basic package is HKD 15,930 as of 6th April 2017. But the price might be changed by currency rate or other reasons.









[Date: 22/03/2017]


We are going to the end of March and cherry blossom season of Japan is coming soon. Many couples and families of our customers also will go to Japan for their pre wedding and family photo.

And here is a new package "Family photo with Kimono" that we just start to provide, which is good suggestion for families planning to go to Japan with children. This package that we offer with our partner Zerography, dress Kimono on your sweet kids for photo shooting in Kyoto, Osaka and Nara prefecture. Of course we serve in popular cherry blossom season and maple leaf season, and you can choose shrine as shooting location too. So it must be a great deal for your memorial trip to Japan.



We have a culture called "Shichi-go-san (七五三)"in Japan that we celebrate kid's growth. Girls wear Kimono when they are 3, 5 and 7 years young and boys wear when they are 3 and 5 years young, and family celebrate their growth and pray for their health from now on.

Zerography has Kimono selection for this habit, and mostly girls up to 8 or 9 years young can wear this Kid's Kimono. Because father wears suit and mother wears Kimono Tomesode or Houmongi (留袖 or 訪問着) in Japanese habit, so Zerography has those Kimono too for your choices. Otherwise you can wear Uchikake (色打掛), Shiromuku (白無垢) or Furisode (振袖) as same as when wives wear wedding dress for their years anniversary and husbands can wear Haori-Hakama (羽織袴) too. Those all are included in a package.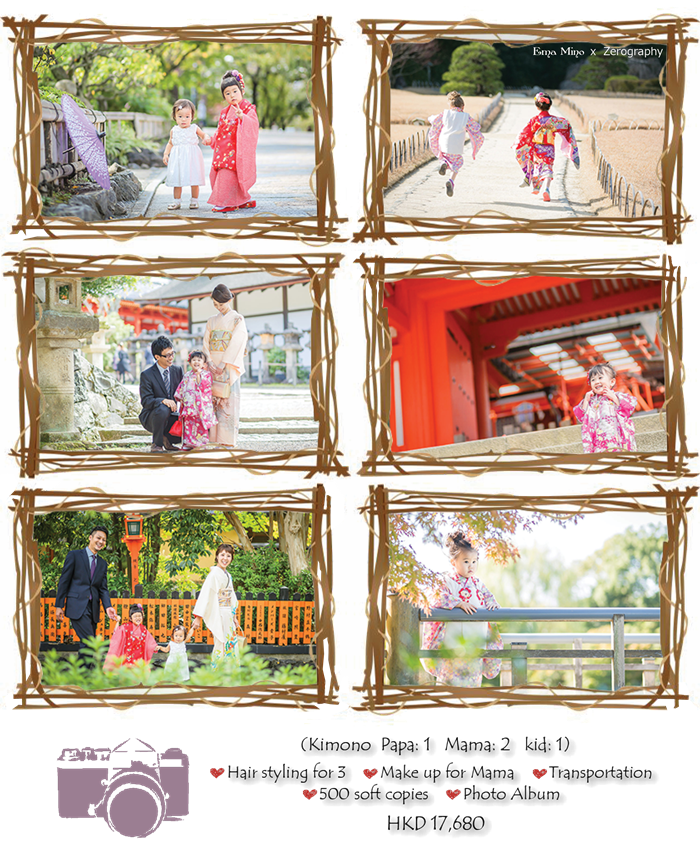 When they look back a photo album 10 years later they feel like they want to come back with family again… We are now starting to give you such unforgettable photos and memories.

"Authentic hospitality for memory of your life" by Ema Mino x Zerography

*Please be noted the price HKD 17,680 is as of 22nd March 2017. It is likely to be changed by currency rate and other seasons.