Penalty to non licensed photographers
Tourists from Hong Kong and Taiwan, China appear in a famous place for the wedding such as chapel, hotel or some popular sight seeing spots in Okinawa with a wedding dress figure, and take snap photos without shooting permission in minutes and disappear in a moment.

We call this "guerrilla photo shooting" and this bad acts occur many troubles with other tourists, photographers, facilities and so on. One report said that a couple come to chapel with photographer (of course without permission) while other couple are having their wedding ceremony. This news was on the top on Yahoo Japan's news content.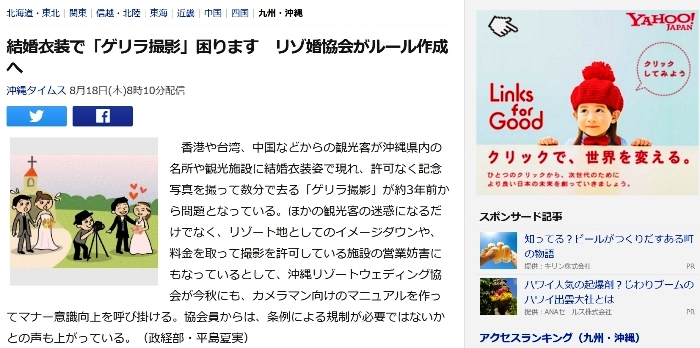 According to the reports from prefectures, the couples change clothes in public toilet, take photos without paying permission fee or entrance fee, stand up on the offertory box at the shrine, and incredibly come into private area without any permission. Those photographers uploaded and publish photos on internet media and SNS, so people who look those photos misunderstand and make same mistakes. One of the most popular shooting spots in Okinawa "American Village" has a policy that photographer need to pay 15,000 Yen for shooting at the facility, but over 70 of unauthorized shooting are found in a year.

Okinawa resort wedding association had held regular meeting last week to discuss about those photographers lacking manner, and adopted a "statement about the preventing of guerrilla photo shooting" such as 1.Making role manual, 2.distribute manual to foreign photographers, 3.Make lists of the shooting spots that require shooting permissions and so on.
They might stop you taking photos if your photographer do not follow public rules and policies. So the most important thing is to find a right photographer crew. If you obsess the price too much, you might choose wrong one and experience unforgettable happening in a negative way.