Booking report of pre wedding in sakura scene 2017
Judging from our experience since 2013, the best day for cherry blossom in Kyoto is 2nd or 3rd April every year. This is a day we always recommend to customers when they ask about the best day. All we know it depends on weather, temperature and some other seasons and it cannot be guaranteed. Many of our customers that wanted to have photo shooting in the best of the best days of sakura in Kyoto, had chosen 1st to 4th of April as their shooting day so far. And as we have been mentioning the earliest starting time is most popular since you do not need to see many tourists while shooting.

But the situation of scheduling photo shooting in this period in 2017 seems a bit different from usual. In 2017, 1st of April is Saturday and 2nd is Sunday. So if you choose these 2 days some of photography teams charge you "extra fee of weekend shooting". This situation makes our customer focus 3rd and 4th.

When we asked one of the most popular photography "Kyoto Kojitsu" about their availability of this period last week, they had not got any orders of shooting in sakura season. But now the situation is turning 180 degree different and we suggest you to schedule as soon as possible. The time they start to serve is basically 7:30, 8:30 and 10:00 in the morning. Check the following availability.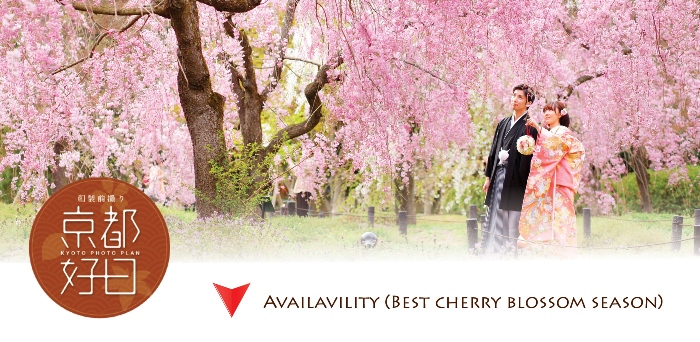 | | |
| --- | --- |
| 1 Apr (Sat) | Extra fee HKD 2400 for weekend shooting |
| 2 Apr (Sun) | Extra fee HKD 2400 for weekend shooting |
| | |
| | 7:30 am | 8:30 am | 10:00 am |
| --- | --- | --- | --- |
| 3 Apr (Mon) | FULL | FULL | 2 crews left |
| 4 Apr (Tue) | 1 crew left | 1 crew left | 2 crews left |
| | | | (As of 23rd Sep 2016) |
Kyoto Kojitsu photography regularly swap their kimono collection, and more than 15 new kimonos are also in your choices. If you book through us Ema Mino, there is no price difference no matter which one you choose. That's the privilege that you get from us. This is one of the reason why there are chosen by most couples. For you information here are some of their new collections. Of course you can choose wedding dress and tuxedo as well.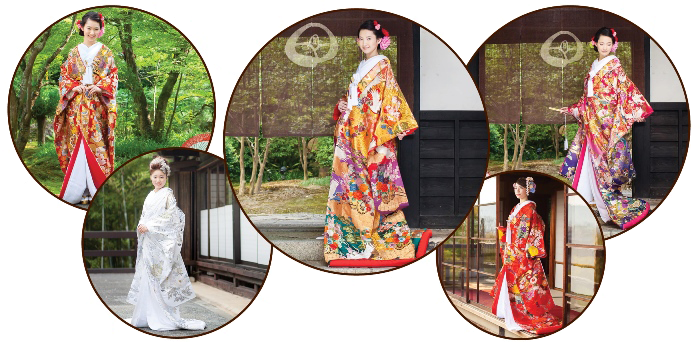 There are more photography in Kyoto that we work with. We just wanted to inform you Kyoto Kojitsu is getting fully booking and other crews also get their schedule busy now. If you are planning to choose Kyoto as your shooting region in cherry blossom season, let us help you.
Photography crews list (Kyoto)
We had much experience that we faced customers who could not find suitable photography team, flights and accommodation due to time rush. Your quick decision must give you a better result.
We don't lie, and sakura don't wait.