Limited package HKD 9,980 for shooting at Osaka Castle
Happy Mid-Autumn festival!!
We are very proud to announce that we Ema Mino just started a promotion package of shooting in Kimono at Osaka Castle provided by En photography. According to investigation of Japanese administrative, approximately 5 times of visitors to Kyoto had flied to Osaka from Hong Kong 2015. But unfortunately no much peoples and couples know that Osaka is also good location for photo shooting. Osaka castle park offers various landscapes in different seasons. Many people visit there to see Cherry blossom and maple leaves fin its season, but we seldom find couples taking pre wedding at Osaka castle park or around.

Our new partner En photography is the crew located in Osaka city, has been serving pre wedding at Osaka Castle for long time. Now we just started to provide their first promotion package for those who's planning to have pre wedding with kimono at Osaka Castle. The promotion period is from now to end of October 2016, and promotion price will be offered to couples who can give us an order until 31st October and you can choose any of days up to the end of April 2017 as your shooting day.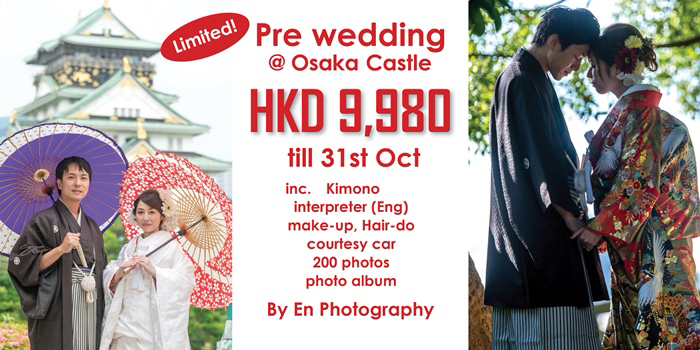 (*Weekend shooting fee: extra HKD 1,600)

The package includes everything you need such as outfits (1 pair of Japanese Kimono), English interpreter, Make-up, Hair-do for bride, courtesy car, 200 photo soft copies, accessories, facility fee and 10×14 inches 20 pages photo album. Total service time is around 4-5 hours (1-2 hours for shooting), so after you finish photo shooting you still have half day. Even if you have not considered pre wedding on your schedule so far, you can change your mind now.

1. I'm planning to Osaka soon with my boyfriend/girlfriend.
2. I like to wear Kimono or I want to try it.
3. I had been looking for suitable yet reasonable package for my pre wedding in Osaka.

If you apply the above subject, you might be better to contact us now.

Contact us
Your smart choice will give you a good result.