Sinkhole appeared in the middle of Fukuoka city


Around 6:00 am (5:00 am in Hong Kong), one of main street around Hakata station in Fukuoka city "Hakata ekimae dori(博多駅前通り)" had collapsed. As luckily this happened a bit earlier than the most crowded time with people go to school and office, according to local news there is no injured person at this moment. But traffic regulations are forced, it is impossible to approach nearby. there is no knowing when it will be restored, so please pay more of your attention to all information about this when you have to go around there.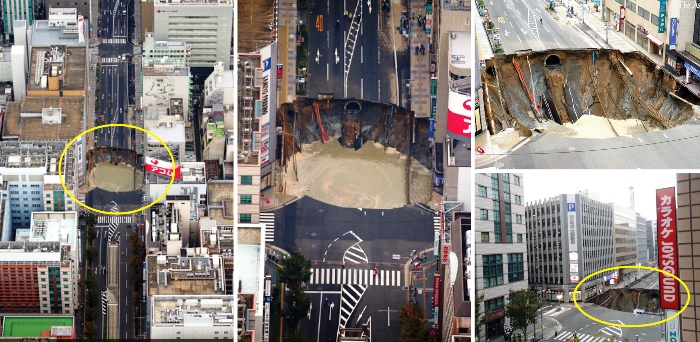 Japanese people share and spread those information with twitter, so you can get more detailed information there. Go to twitter page and search with words such as "博多駅前通り", "博多駅", "陥没" or some other similar words. It's very helpful for you to get the latest information on time. But we believe you better not to get close there. For all travelers to Fukuoka city, just take good care of yourselves.


| | |
| --- | --- |
| Actual spot | Around intersection "Hakata ekimae 2chome (博多駅前2丁目)" |
| Evacuation recommendation | 12 and 14-3-2chome Hakata ekimae |
| | 5 and 7-5-2chome Hakata ekimae |
| | 21-25-3chome Hakata ekimae |
| | 1 and 29-26-3chome Hakata ekimae |
| | |
Basic information of Fukuoka