Tachiarai cho, Fukuoka prefecture

"Tachiarai cho (大刀洗町)" has been spreading its name in Hong Kong now. Tachiarai cho is a town where has much nature located in Fukuoka prefecture and surrounded by Asakura city, Ogori city, Kurume city and Chikuzen cho. Condition of its climate and temperature is much suitable for growing vegetable. These vegetable is branded soon after it's harvested, and shipped to various places. And Hong Kong is also about to be one of their destinations.

A Japanese sushi restaurant in Hong Kong "Mikasaya (三笠屋)" regularly hold events to serve and sell fresh vegetables harvested in Tachiarai. On the last event held on October, Mikasaya was packed with guests who want to find Japanese vegetables. And those various vegetables from Tachiarai like lettuce, peanuts, spinach, ginger were sold in reasonable prices. Mikasaya sushi restaurant provides some dishes with Tachiarai's seasonable vegetable too. The combination of vegetable and sushi that they create may make you surprised.

A small town with around 15,500 residents stand up now with their potentiality to welcome foreign tourists in close future.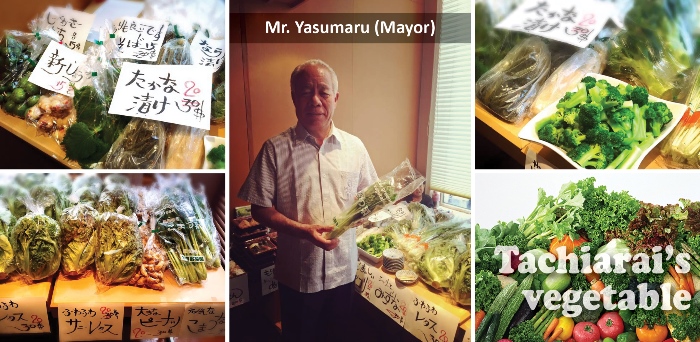 And incredibly Tachiarai just started to accept LEGAL WEDDING for foreign couples!!

Some ward offices in Fukuoka had started to function as registry office for legal wedding. But they have their each terms and conditions for acceptation such as "couple need to have wedding ceremony in Fukuoka city". But Tachiarai town office accept your legal wedding any time without any requirement to attract more young couples and tourists to the town.

We Ema Mino have packages which serve legal wedding and pre wedding in this beautiful town with nature scene. We believe "Coexistence of modern city and majestic nature" is the biggest attractiveness in Fukuoka prefecture. We also hope lots of couples will enjoy pre wedding in natural scenery of Tachiarai. Get more information and spend your time there during you stay in Fukuoka.


Tachiarai town office
Address
819 Tomita. Tachiarai-cho. Mitsui-gun. Fukuoka
Tel
0942-77-0101
Opening hours
8:30 am – 5:15 pm
Close
Saturday / Sunday / Public holidays
Tachiarai cho website
http://www.town.tachiarai.fukuoka.jp/
Basic information of Fukuoka