Mr. and Mrs. Liu

China


Kyoto


Zerography Kyoto


Pre Wedding Photo


4th October 2016



Original comment in Chinese

My boyfriend and I like Japanese culture so much. We had been planning to travel to Japan for our pre marriage trip during Chinese National Foundation period in 2016. As we are getting married at the end of this year, we decided to take pre wedding in Japanese traditional style. We had searched many Local photography and took information of them such as outfits, prices, and services. But none of them make us feel satisfied. Most of store are same unfortunately, outfits are not authentic and prices are quite high.

As it happened, an wedding photography company in Hong Kong "Ema Mino" (https://ema-mino.com) on internet. The website of this company attracted me and photos on there are really beautiful. Their outfits are quite authentic and used for Japanese formal traditional wedding. The owner Mr. Nagata is Japanese, helped us to find a suitable photography crew for us and our requirements, and made us really happy.

Eventually we chose "Zerography" in Kyoto, whose staffs speak English. So we had communicated easily. The scenery of Kyoto is nice and package price is more reasonable than package of Tokyo. TED, a staff of Ema Mino paid much attention to make our schedule, check the weather of period we are in Kyoto, give us information of transportation, fare and also hotels around Zerography's salon. So careful! We got outfit pictures in advance so I selected two that I like (1 Uchikake and 1 Shiromuku). Style of man's outfits is fixed so I didn't show it here. These following kimono are my choices. It's so beautiful isn't it?




We are free on this 8 days trip, stayed in Kyoto for one night on 4 Oct for our shooting and had spent our time in Kyoto in rest of days. Time passed fast till shooting day, we are so excited. During trip we faced typhoon but TED suggested us to change our original date 5th to 4th. The weather is nice on 5th luckily and very suitable for photo shooting. One day before 3rd and one day later 5th has heavy rain, only 4th is sunny day. TED is really smart.

Zerography is located 10 minutes walking distance away from our hotel. Photographer was really polite and waiting for us in front of door. We tried our outfits first without any matters, and afterwards a cute yet gentle Japanese female stylist served me carefully and do hair make that I like. After make-up they dressed us up with Kimono, but the process wearing Kimono is more complicated that we expected. There are lots of belts OBI to wear, I'm not sure if the skinny ladies can be patient. When I finished to wear all I felt kind of suffocation and like I got a few pounds weight! But it is really beautiful. That's what I feel with Kimono. Haha~




We had been feeling very happy while photo shooting. Photographer Kenji san is humorous and cute man, talked to us with abundant body language and also used mobile to translate what he want to say in Chinese. So we didn't worry about language barrier. The assistant staffs also really active, always stayed around and helped us for translation. Trying to talk to them in my poor Japanese was very interesting. Kenji san jokes well to make us smile and captured our happy moments.

Make up stylist is also very careful, prepared much drinks, put straw and had asked if we are thirsty and wanted to drink every time they finished shooting at each location. As I'm made up on face so she got straw close to my mouth. Photographer and assistants also work so hard to keep good angles, lying on the ground, standing with their knee and so on. They served us seriously and pictures they captured are very beautiful. We are so impressed.

Kyoto is filled with osmanthus fragrance in October and its beautiful scenery attracted me much. Many tourists believed that we are Japanese couples, took our photo and celebrated us. This photo shooting trip makes us really happy. Even though it's hard this is valuable and it becomes very beautiful memory in our entire life. We missed staffs of Zerography when the shooting schedule is almost done. So we asked a male tourist who's also a photographer from Thailand to take one photo of all of us. Every time when we see this photo, it probably make me remember this beautiful Kyoto trip.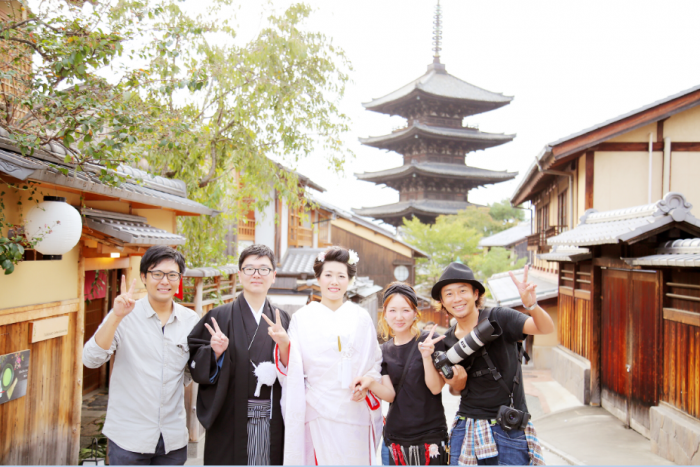 After we back to our country Ema Mino sent us nice photos and a really beautiful yet big album and it's praised by my colleagues. Thanks to Ema Mino's Mr. Nagata and TED and also to Zerpgraphy's staffs for giving us great memories.